Heavy snow adds another Super Bowl week woe
02/04/11 08:54 AM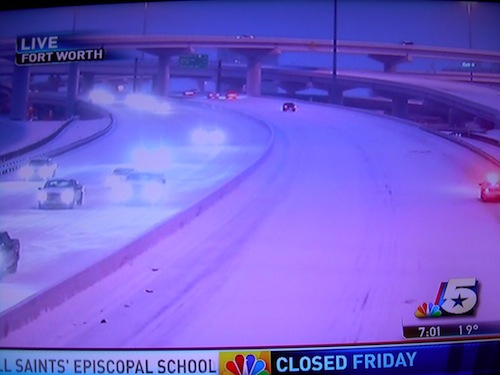 A shiver runs through it: the road to Super Bowl XLV. Photos: Ed Bark
By ED BARK
D-FW weathercasters under guess-timated Friday morning's snowfall, initially predicting a light dusting of little more than an inch before upwards of six inches fell on an already whipped North Texas.
They spent a good deal of time acknowledging their collective errors during early A.M. shows that again stretched through and beyond the network waker-uppers on ABC, CBS and NBC. Fox4's
Good Day
continued as usual until 9 a.m. -- and then kept going along with its competitors on NBC5, WFAA8 and CBS11. It afforded Fox4 co-anchor Tim Ryan additional time to carp about the seeming lack of preparedness just two days before Super Bowl XLV kicks off at Jerry's Palace.
Stalled cars, spinning wheels and hooded reporters in the field otherwise filled home screens when bleached-out weather maps and stay-off-the-roads traffic reports weren't holding sway. It all got worse when the snow intensified in Fort Worth around the time it was supposed to be moving out of the area. By 10 a.m. it had resumed snowing in Garland at unclebarky.com world headquarters. In short, holy crap -- with forecasted highs for Super Bowl Sunday already dipping from the high 50s to the high 40s. Which probably means it'll be in the 30s. (And in fact, by 11 a.m., that became the revised forecast.)
Over on Fox Sports Southwest, Dan Patrick tried to make the best of it by very ably shooting hoops in the snow in Victory Park. He then welcomed New York Jets quarterback Mark Sanchez to his see-your-breath morning show.
"It's just a weird week in the year, and we have to accept that," Cowboys quarterback Tony Romo said Friday morning on ESPN2's
First Take
show while a steady snow fell behind him. The former Burlington, Wis. Demons QB then dodged making a Super Bowl pick.
Here are some more images from local stations' Friday morning coverage.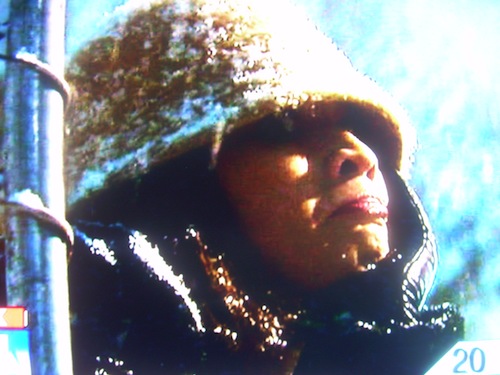 Frisky Fox4 reporter Fiona Gorostiza faked a forlorn look when Jersey Shore dumbo Mike "The Situation" Sorrentino turned out to be a no-show for a Thursday night party at BlackFinn in Addison. P.S. It turns out she was all wrong about that, because D Magazine's FrontBurner blog has a picture of him at the party.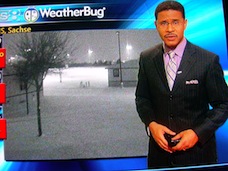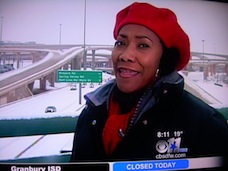 Tale of two spouses: weathercaster Greg Fields stayed toasty in the cozy confines of WFAA8 studios while his wife, CBS11 reporter Robbie Owens, was dispatched to a sub-freezing overhead bypass.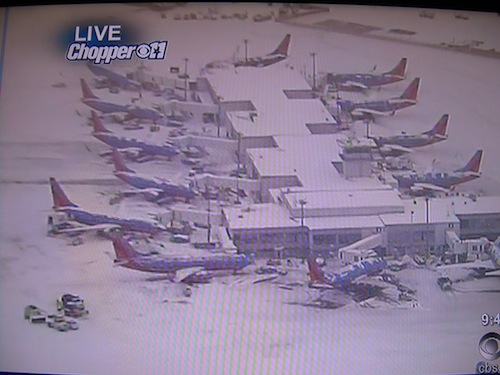 Southwest planes hibernated at a shut-down Love Field in Dallas.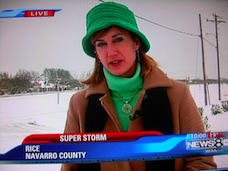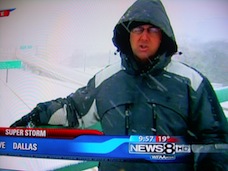 WFAA8's Cynthia Vega gets the best winter weather outfit prize while colleague Steve Stoler looks a little worse for wear.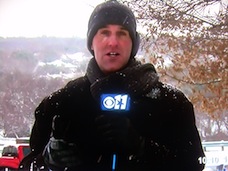 NBC5's resident old pro, Ken Kalthoff, said he survived a close brush with a skidding car while CBS11 meteorologist Jeff Jamison reported on stalled employees from outside the station's Fort Worth entrance.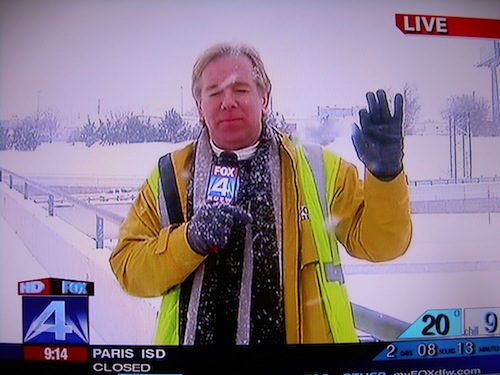 Fox 4's Dan Godwin went topless while anchors asked him why.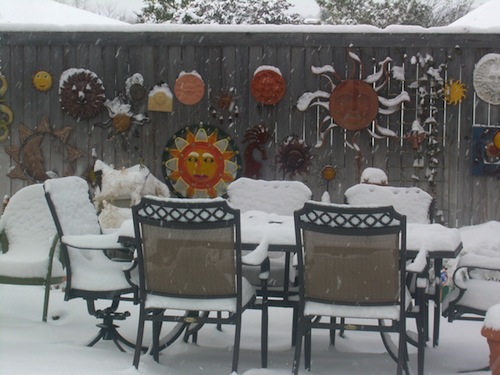 The suns hung in there at unclebarky.com world HQ in Garland.