Sgt. Nick signs off after nearly two-and-a-half years as Daybreak's's traffic anchor (updated)
01/27/17 08:28 AM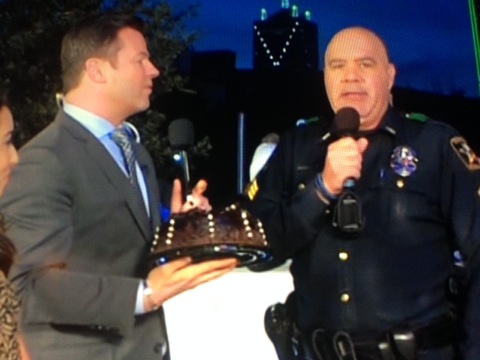 Co-anchor Ron Corning held Sgt. Nick's goodbye cake while he said goodbye to viewers at the end of Friday's Daybreak. Photo: Ed Bark
By ED BARK
@unclebarkycom on Twitter
TEGNA8's early morning traffic anchor, "Sgt. Nick," officially hit the road at the end of Friday's
Daybreak
program.
"It's been a great run," he said repeatedly after a fond farewell that included a chocolate cake and a clip reel of Sgt. Nick (full name Nick Bristow) clowning around by dancing, singing and wearing various wigs.
Unclebarky.com
broke the news
last week of the station's decision to part ways with D-FW's first uniformed traffic anchor after
first reporting his hiring
in August 2014. As also
posted earlier this month
,
Daybreak
likewise will be losing co-news anchor Alexa Conomos, who currently plans to remain with the station until her contract expires in June of this year.
Bristow, who remains with the DeSoto police department, was a corporal when TEGNA8 news director Carolyn Mungo hired him. He had no previous television experience and learned as best he could on the air. Depending on one's viewpoint, making a man in uniform a part of the
Daybreak
team was either bold, foolish or puzzling. The program remained third in the overall Nielsen ratings during Bristow's nearly two-and-a-half-year tenure, but in one "sweeps" period (May 2015)
fell to fourth place
for the first time ever in the key news demographic of 25-to-54-year-old viewers.
Mungo has long ignored emails from unclebarky.com asking for comment or confirmation of arrivals or departures. According to multiple sources, management also has strongly advised news staffers to do the same. In contrast, management and/or official spokespeople for Fox4, NBC5 and CBS11 generally reply to inquiries from unclebarky.com on personnel moves. They also usually announce on-air or
significant management hirings
via publicity releases, which TEGNA8 does not do. But the station regularly funnels confirmations and/or comments through its content-sharing partner, Fort Worth's
Star-Telegram
, after reports initially are posted on unclebarky.com.
Bristow, who has not returned a message sent last week regarding his departure from TEGNA8, thanked Mungo at the end of Friday's
Daybreak
for "having the faith in me to bring me on."
(Freed from TEGNA8 management constraints, Bristow sent an email reply Saturday morning. "I couldn't be more proud of my time at WFAA," he said. "They gave me the opportunity to do something I never dreamed of doing, while having the patience to see me through a steep learning curve. Sorry I didn't reply sooner.")
Co-news anchor Ron Corning told viewers that the DeSoto police department has increased Bristow's responsibilities while TEGNA8 at the same time intends to expand its traffic reporting in other day-parts.
"You just can't do it all, folks," he said. "And so it is a little bittersweet" to say goodbye to Bristow.
TEGNA8 has not yet hired a replacement for Bristow, who also was praised via solicited social media responses Friday in a continuous bottom-of-the-screen crawl that ran while he said goodbye. One of the last ones praised his dance moves and added, "You go, Sgt. Nick."
And now he has. Travel safely.
Email comments or questions to:
unclebarky@verizon.net