"An honest mistake, and we were wrong"
02/28/08 03:04 PM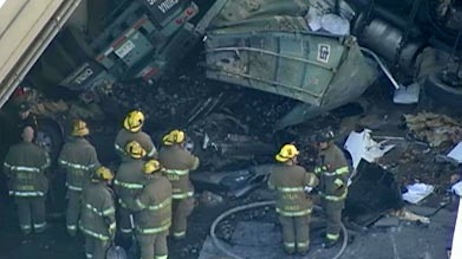 By ED BARK
Relatives first heard of 20-year-old Ashley Parra's death Wednesday from a television reporter who reached them before police did.
"It was unintentional and not competitively driven. It was just a mistake," WFAA8 news director Mike Valentine said in an interview Thursday.
Reporter Craig Civale unknowingly broke the news to Parra's grandmother, Susan Castro, at her residence early Wednesday night, Valentine confirmed. Her car was crushed several hours earlier when an 18-wheeler fell onto it after plunging off the overhead Woodall Rogers Freeway ramp. The bizarre tragedy received heavy coverage on all four major local TV newscasts.
Valentine noted that authorities had held a news conference three or so hours before Civale knocked on Castro's door.
"It was under the assumption that everyone had been notified. I certainly wish it wouldn't have happened," Valentine said. "The reporter wishes it wouldn't have happened. . . Things fall through the cracks, and that happened in this case. We were not rushing to get to the house to get that on the air immediately. The timing from our end was just poor."
An anonymous tipster from a rival station earlier had accused WFAA8 of "committing the worst crime a news station can be accused of. . . They need to be called out on this because it's avoidable, irresponsible and makes me ashamed to be in the TV news business."
WFAA8 and all reputable news organizations have policies against notifying family members of such tragedies before authorities can contact them.
Valentine noted that the station had erred on the side of caution just a few days earlier in initially holding back the name of Dallas police officer Victor Lozada, who died Monday morning in a motorcycle crash while helping to escort Hillary Clinton's motorcade.
Rival stations publicized his name, but "we did not because police hadn't given us clearance to do it," Valentine said.
That doesn't excuse the Parra situation, he said. "It was an honest mistake, and we were wrong."
NBC5 also interviewed Parra's grandmother on-camera, arriving at her home shortly after WFAA8 did. CBS11 interviewed Parra's grieving fiance and her aunt.
Fox4 didn't interview anyone close to Parra on its Wednesday, 9 p.m newscast. Nor did the station even identify her during reporter Jeff Crilley's coverage.