Local Nielsen ratings snapshot (Wed., Jan. 18) -- Idol still a force
01/19/12 01:38 PM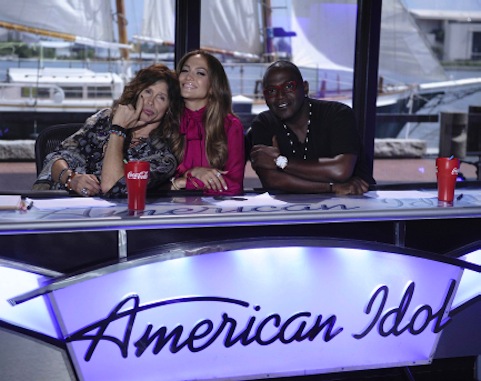 More judgment days for Steven Tyler, Jennifer Lopez, Randy Jackson.
Fox photo
By ED BARK
Wednesday's 11th season premiere of
American Idol
led Fox to another prime-time romp, even though the D-FW numbers drooped a bit from
last year's launch
.
Idol
averaged 562,250 viewers from 7 to 9 p.m., with 246,577 of them in the motherlode 18-to-49 demographic. Last January's two-hour premiere, which introduced judges Jennifer Lopez and Steven Tyler, had 602,536 viewers, with 256,667 in the advertiser-craved 18-to-49 age range.
There has, however, been some year-to-year ratings deflation in the D-FW market, with each point now worth 67,741 viewers instead of 69,257. So in that respect, it's pretty much a wash.
The Season 11 debut took a substantially bigger hit nationally, dropping from 26.3 million total viewers to 21.6 million, according to preliminary Nielsen data. The 18-to-49 numbers also took a double-digit drop percentage-wise.
Locally, a couple of competing attractions gave
Idol
a halfway decent fight Wednesday night. CBS' new episode of
Criminal Minds
had 331,931 total viewers in the 8 p.m. hour, with 102,474 of the 18-to-49 persuasion.
Also at 8 p.m., ABC's first-run
Modern Family
drew 298,060 viewers. And its 18-to-49 showing -- 182,531 -- checked in at a substantially higher percentage than
Idol
's.
Meanwhile, NBC took it in the teeth again, running fourth all night in both major ratings measurements. The second episode of
Are You There, Chelsea?
managed just 108,386 total viewers from 7 to 7:30 p.m.
CBS won the 9 p.m. hour in total viewers with a new episode of
CSI: Crime Scene Investigation
(264,190). Fox4's local newscast comfortably ran first with 18-to-49-year-olds, though, with a new episode of ABC's
Revenge
sagging to fourth in that key demographic.
In Wednesday's local news derby results, CBS11 swept the 10 p.m. Nielsens in total viewers and 25-to-54-year-olds, the favored advertiser target audience for news programming.
Fox4 likewise ran the table at 6 a.m. and 5 p.m. The 6 p.m. wins were split between WFAA8 in total viewers and Fox4 in the 25-to-54 demo.
PROGRAMMING NOTE:
TXA21, sister station of CBS11, is moving its locally produced
The Fan Sports Show
with Gina Miller up a half hour. Beginning on Feb. 6th, it will run from 6:30 to 7:30 p.m. weekdays, with the syndicated
Inside Edition
moving back to 7:30 p.m.