Local Nielsen ratings snapshot (Mon., Oct. 24) -- Rangers hit new peak high while tying Sunday night numbers
10/25/11 11:07 AM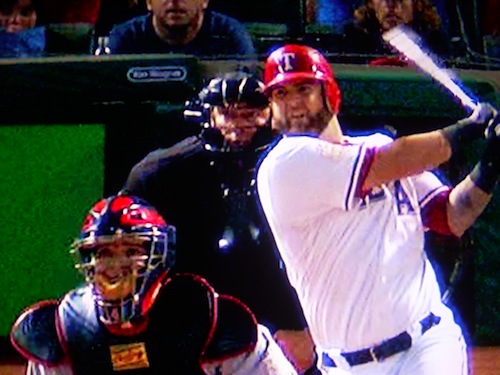 Folk hero Mike Napoli belts decisive 2-run double. Photo: Ed Bark
By ED BARK
Late game heroics by Mike Napoli powered a 4-2 Texas Rangers win over the St. Louis Cardinals while sending the team past the 2 million mark for the first time in its long and mostly inglorious history.
Game 5 on Fox, which ran from 7:09 to to 10:40 p.m., topped out at 2,045,778 D-FW viewers in its closing segment (Nielsen measures in 15-minute increments). The Rangers had never exceeded 2 million viewers until that point. Overall the game averaged 1,673,203 viewers, tying Sunday's Game 4 for the most-watched in the history of the North Texas 9.
The Series now relocates to Antartica, a k a St. Louis, where Wednesday's forecast calls for rain, strong winds and temperatures in the 40s by the time the teams take the field. If they do. One more win by Texas gives the team its first World Series championship. Given those stakes, Wednesday's game should hit at least a 2 million viewer average, barring a blowout by the Cards or rain delays that send it into the very wee hours. And if there's a Game 7, a 2.5 million average just might be achievable.
Monday's most-watched prime-time attraction opposite the World Series, a new 9 p.m. episode of ABC's
Castle
, had 264,190 viewers. ESPN's defense-dominated
Monday Night Football
game between the Jacksonville Jaguars and Baltimore Ravens languished with just 108,386 viewers.
NBC's 9 p.m. rerun of
Prime Suspect
was the night's least-watched program on the five major broadcast networks, drawing a sub-puny 27,096 viewers in a North Texas market of 6.77 million.
The 10 p.m. local newscasts, airing opposite Fox's climactic moments of the Series, were hard-pressed to find viewers. WFAA8 "won" with just 115,160 viewers while third-place NBC5 had possibly its lowest turnout ever -- 40,645 viewers. WFAA8 nipped NBC5 for first place with 25-to-54-year-olds, the main advertiser target audience for news programming.
The four-way local news derby competitions all went to Fox4, which easily ran the table at 6 a.m. and 5 and 6 p.m. The station's 6 p.m. World Series cheerleader edition had a nice-sized 223,545 total viewers. WFAA8 sports anchor Dale Hansen's 6:30 p.m. World Series special was no match for the Fox network's warmup act. It drew 487,735 viewers to Hansen's 81,289.
Blessed with both the Rangers-Detroit Tigers ALCS and now the World Series, Fox4 is basking in the best prolonged ratings run in its history. The station rubbed it in with Sunday's Dallas Cowboys-St. Louis Rams game, which also averaged well over one million viewers locally.