Cowboys again in the crosshairs while commentators wade into Phillips
12/16/09 03:21 PM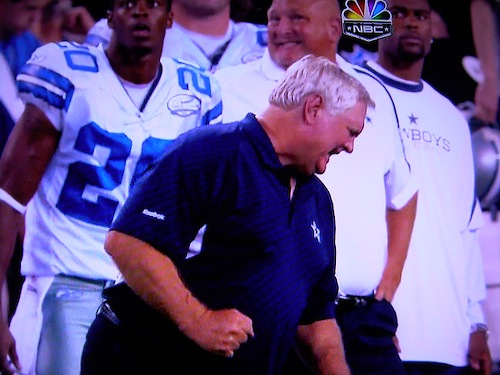 Wade Phillips took the Cowboys' home opener loss hard. Photo: Ed Bark
By ED BARK
Well, at least the Cowboys haven't been trampled by anyone yet, although that obviously could change Saturday night in New Orleans.
Nor did Sunday's 20-17 home loss to the red hot San Diego Chargers smell as bad or any worse than:
***
The Giants' defenseless 45-37 home loss to the Eagles in a game that could have put New York in control of the NFC East.
***
The Steelers' upchucking 13-7 loss to the then 1-11 Browns, all but knocking Pittsburgh out of the post-season.
***
The West Division-leading Cardinals' stinko 24-9 loss to the mediocre 49ers, in which Arizona committed seven turnovers and had an extra point blocked.
So once again, revving up my warm-to-the-touch sports opinion motor, I say to a riled-up Cowboys nation and its fomenters: Imagine the outcry if that had happened to reviled Coach Wade Phillips and his Cowboys 11.
Of course the outcry is pretty deafening anyway, with
103.3 FM's Randy Galloway
and company again leading the charge and happily entertaining the idea of Phillips' immediate firing in favor of "Red Jesus" (offensive coordinator Jason Garrett).
That's a defensible idea only if Galloway also calls for his own firing, with frequent punching bag Matt Mosley replacing him. At least Phillips still has a winning record -- 30-15 -- as the Cowboys' coach.
Not so Galloway, whose mid-afternoon harangue has
never come close
to beating the competing
"Hardline
" program on "The Ticket" (1310 AM). And Galloway's been given far more time than Phillips to turn things around. He's also got the powerful ESPN radio network behind him. So put his head on a stick, I say. And parade him down Main Street for the masses to enjoy.
I wish "ol' Randy" no ill, though. We're long-ago former
Dallas Morning News
colleagues, and there's no real reason for him to be sacked. Nor is there a compelling or sensible argument to show Phillips the door with just three games left in a season where the Cowboys still hold the second wild card spot despite two successive losses in the dreaded month of December.
This might actually have something to do with Dallas playing teams that have winning records. During the same two-game span, the Saints have consecutive three-point road wins against the Redskins (now 4-9) and the Falcons (6-7). Washington had New Orleans beat until their kicker missed a chip shot field goal in the final minutes. And Atlanta was without its starting quarterback and running back.
I'm not saying Phillips is Moses, or even Jethro. He looks dumpy, is relatively colorless and doesn't have the gift of gab, which Galloway certainly does. But damn people, let's look at the record.
Dallas basically has been competitive in every game. Its worst loss was 17-7, to the Green Bay Packers. Can East Division rivals New York and Philadelphia say that? Hardly.
The Saints torched the Eagles -- 48-22 in Philadelphia -- in Week 2 of the season. The Giants have sustained a 40-17 loss to the Eagles and went down 48-27 to the Saints.
CBS11 sports anchor Babe Laufenberg noted the other night that Dallas is 7-0 against losing teams, but just 1-5 against opponents with winning records. That's true, but what else is new?
The Eagles have beaten the Giants twice, but their other seven wins have all been against teams with losing records.
The Giants have a pair of close wins against Dallas. Their other five wins are against NFL losers.
My native state Green Bay Packers are 9-4. But who have they beaten besides the Cowboys? Well, they beat the Ravens, now 7-6 after pounding the crap out of the hapless Lions last Sunday. Otherwise the Packers' wins are against the Bears (twice), the Lions (twice), the Rams, the Browns and the 49ers. In other words, nobody. And they do have that super-ugly loss to Tampa Bay, which still is the Bucs' one and only win this season.
The Minnesota Vikings? Seven of their 11 wins are against losing teams. That includes a wing-and-a-prayer pass on the closing play of the game to beat the 49ers at the Metrodome -- or whatever it's called these days.
The NFC's only other winning team, 8-5 Arizona, has a very impressive 30-17 home win against the now 11-2 Vikings. But then they turned right around and played dead Monday night at San Francisco. To repeat: seven turnovers and a blocked extra point against a less than imposing opponent.
In contrast, Dallas hasn't melted down just yet. Maybe the Cowboys will against a wild 'n' crazy offense in a wilder and crazier Superdome. But I don't think so. In fact, it would be just like Dallas to miraculously beat the Saints and then stumble at Washington in the following week.
That's the NFL, though. And in that belief, WFAA8 sports anchor Dale Hansen and your friendly content provider actually have something in common. That station's self-proclaimed "Voice of Reason" lately has taken a chill pill regarding the Cowboys. He respects the team's overall character and actually seems to want Phillips to survive. In contrast, Hansen loathed previous coach Bill Parcells and last season's unholy trinity of Terrell Owns, Pacman Jones and Tank Johnson, all of whom were dispatched.
I like this version of the Cowboys, too. And as NFL coaches go, Phillips is hardly the roly-poly clown that Galloway keeps eviscerating.
The litmus test is Saturday night, though. If Dallas gets embarrassed, then they may not win another game. It'll then be fair enough to lay that one on Phillips and wait for his inevitable execution.
If they're competitive, though, then there's still hope. And that's what I'm predicting. The Cowboys may not win, but they'll look much better than either the Giants or Eagles did against New Orleans. Win or lose, they'll very much be in this game entering the 4th quarter.
If they indeed suck it up for Phillips, though, he'll of course get no credit. Should they get torched, Galloway again will be chanting, "Cows stink." Knowing, him, he might even urinate on the team picture while Mosley holds it for him and endures the back-splash.
That would be special, even if twice as many people are listening to "The Ticket."