Dallas-made True Tales strips down the Carousel Club and headliner Tammi True
07/12/13 05:00 PM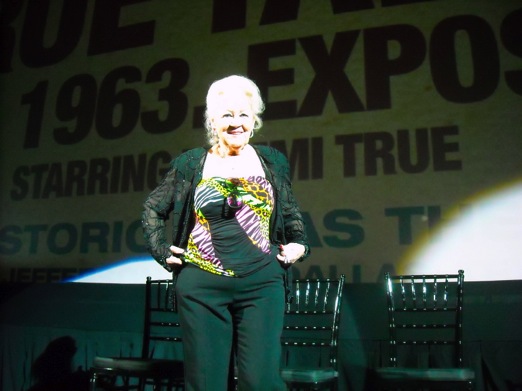 Tammi True at the Texas Theatre after seeing her last picture show.
Photo: Ed Bark
By ED BARK
@unclebarkycom
Tammi True considers herself a little too old to take it off in public anymore.
So the 75-year-old former headliner at Jack Ruby's Carousel Club let the
Ruby Revue
burlesque dancers get down to G-strings and pasties Thursday night. They contributed an extended warm-up for the world premiere of
True Tales
at Oak Cliff's even older Texas Theatre.
True Tales
, still awaiting a TV network home or future theater bookings, is a 72-minute film from Andy Streitfeld's
Dallas-based AMS Pictures
. True (real name Nancy Myers) is on screen constantly, whether rasping her way through reminiscences or in period photos. She's also played in reenactment scenes by a young local actress.
Asked on-stage about the overall experience of making the film, True joked (presumably), "It's been a pain in the ass. I'm gonna turn you in for senior citizen abuse." But she later made it clear she had a "wonderful" time and likes the finished product.
True Tales
is one of numerous new productions tied to the 50th anniversary of the Nov. 22, 1963 assassination of President John F. Kennedy in Dallas. Ruby, owner of the long defunct downtown Carousel Club, then famously shot the accused assassin, Lee Harvey Oswald, on national television. Police were transporting him to another jail on Nov. 24th when Oswald met his fate at the end of Ruby's .38 in the basement of the Dallas Police Department building. Oswald had been arrested just two days earlier at the Texas Theatre.
True, who said she had been "very close" to Ruby, never visited him during his incarceration. In short, she didn't need the publicity.
"My kids were really young (she has two daughters) and so I wanted to keep them out of it as much as I could," True explained after the screening.
Ruby died on Jan. 3, 1967 after being convicted of Oswald's murder. The film shows True making a recent pilgrimage to his grave in Northridge, Illinois to pay her last respects and reach "closure."
One of True's old Carousel Club dance mates, Joyce Gordon, also attended Thursday's screening. She happily motored up and down the Texas Theatre aisle in her wheelchair during the Q&A session. The Club's drummer at the time, Bill Willis, likewise made the scene, with the aid of a walker.
True never returned to the Carousel Club after Ruby's death. She remarried and worked in the "banking industry" for 15 years, True said. "So I wasn't really totally stupid."
She now refers to her breasts as "hanging baskets," and can still shake them some. True also claims to still be in the market for "young guys" willing to show her a good time. And if
True Tales
gets enough exposure, that could end up being a realistic proposition.
Email comments or questions to:
unclebarky@verizon.net