Local Nielsen ratings snapshot (Fri.-Sun., Oct. 9-11) -- Cowboys again make Fox4 feel like a million
10/12/09 10:15 AM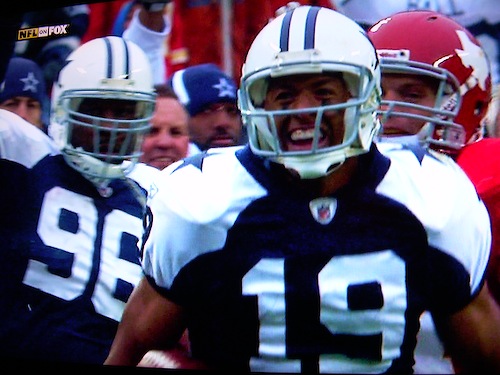 Record-setting Miles Austin runs to touchdown glory. Photo: Ed Bark
By ED BARK
The Cowboys' face-saving overtime win against Kansas City again rang up more than one million D-FW viewers at the Nielsen cash register.
Even so it was the second-lowest total of the regular season, with 1,102,738 viewers watching the early starting game on Fox. The season opener against Tampa Bay, also a noon game on Fox, remains in the basement with 1,042,951 viewers. NBC's
Sunday Night Football
baptism of Jerry's Palace is still comfortably on top, with 1,700,608 watching the Cowboys narrowly lose to the Giants.
Cowboys-Chiefs, which ran from noon to 3:35 p.m., had its peak audience between 3:15 and 3:30 p.m., when 1,381,744 watched.
Obliterated was the competing Giants-Raiders game on CBS, which stumbled in with an average of 46,501 total viewers.
CBS fared appreciably better with Sunday's second game, won by Denver in OT against New England. That one peaked between 6:15 and 6:45 p.m., when 611,156 viewers watched each of the 15-minute segments. That contrasted with just 33,215 viewers for the game's first 15 minutes, when the Cowboys were still playing.
NBC's one-sided
Sunday Night Football
matchup between the unbeaten Colts and victory-less Titans averaged 391,937 total viewers, still good enough to sweep the prime-time Nielsens.
On the college football front, Saturday night's much-anticipated Florida-LSU matchup on CBS averaged a surprisingly small 192,647 viewers. ABC's competing Iowa-Michigan game lagged with 99,645 viewers.
ABC's daytime attraction, Oklahoma vs. Baylor, was Saturday's most-watched college game with 219,219 viewers.
CBS swept Friday's prime-time Nielsens in total viewers with its regular lineup of
Ghost Whisperer, Medium
and
Numb3rs
.
But Fox's
Dollhouse
showed some signs of life among advertiser-craved 18-to-49-year-olds, winning the 8 p.m. hour in that measurement while
Medium
fell to third behind NBC's
Dateline
. ABC's
20/20
won at 9 p.m. with 18-to-49-year-olds; NBC's
The Jay Leno Show
drooped to third.
In local news derby results, WFAA8 took first in total viewers at 10 p.m. for the first time in a week, with NBC5 and CBS11 sharing the silver. WFAA8 also ran first among 25-to-54-year-olds, the main advertiser target audience for news programming. Close behind were NBC5 and CBS11.
The 6 a.m. golds were split between Fox4 in total viewers and NBC5 in the 25-to-54 demographic. WFAA8 slid to an early morning fourth with 25-to-54-year-olds, but won the 6 p.m. newscast competitions in both measurements.
Fox4 had comfortable twin wins at 5 p.m., with its double dose of
Judge Judy
clubbing WFAA8's
Oprah Winfrey
in the 4 p.m. hour while NBC5's
First At Four
local newscast ran second.
WFAA8 hopes for a big boost in Monday's numbers with a heavily promoted visit by Winfrey during the station's 5 p.m. edition. She taped a future show at the Texas State Fair Monday morning.