This just in: a night in the lives of D-FW's late night newscasts (Tues., Nov. 6)
11/07/07 02:02 PM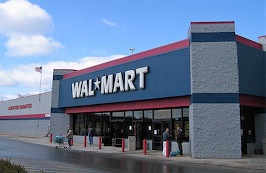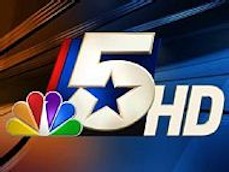 By ED BARK
Wal-Mart and NBC5: What would one do without the other?
The Peacock stretched its Wal-Mart streak to five consecutive 10 p.m. newscasts Tuesday. That includes mentions of the big-time chain retailer on all four of its November "sweeps" shows.
Halloween night started the streak, with reporter
Nigel Wheeler
standing in a Wal-Mart parking lot to hear shoppers tell him how excited they were about the early holiday season discounts being offered. Hey, thanks for the infomercial! But wait, there's more. NBC5 also flogged Wal-Mart's bargains on its Thursday and Friday newscasts last week.
Monday was a bit of a downer, with the station's new apprentice Mistress of the Dark,
Ellen Goldberg
, interviewing a woman who'd been scammed by a "Mystery Shopper" come-on.
The patsy went to a Wal-Mart to supposedly evaluate the customer service at a wire-transfer business called MoneyGram. She was given a cashier's check from the con artists as payment, but had to wire part of the money back to them from her bank account to test the service. Guess what? The check was phony, and now the woman's own checks are bouncing, too.
Goldberg took pains to say that Wal-Mart was an innocent bystander and had nothing to do with the scam.
Sometimes, though, Wal-Mart has to take the bad with the good on NBC5, which recently had a
Scott Gordon
report on entranceway Halloween decorations that supposedly terrorized a young mother's little children. One of the kids nonetheless giggled and made faces throughout his top-of-the-newsast report. But the decorations were moved to another part of this particular Wal-Mart.
The store's parking lots also have been favorite NBC5 venues for crime stories. But hey, they always spell and pronounce the name right, and a remedial infomercial invariably seems to be right around the corner. On Tuesday night, Wal-Mart got the lead newscast tease from anchor
Mike Snyder
, who gushed, "Wal-Mart like you have never seen one. We're going to take you inside the store of the future."
Twin mid-newscast teases further primed the pump.
"It's the Wal-Mart that'll make you do a double-take," assured co-anchor
Jane McGarry
.
"What's inside may shock some shoppers -- in a good way," Snyder added. "We'll show you why."
It soon was time for reporter
Brian Curtis
' glowing show-and-tell. The new Highland Village Wal-Mart aims to be more esthetically pleasing. There's even a big pecan tree out in front of it. Within are "artisan breads from an old-style oven" and dishware that looks as though it could be sold in a department store, Curtis told viewers. A Wal-Mart representative agreed that this is one great, customer-pleasing store.
Curtis closed his "story" with a visual of happy workers making baked treats. "In return, Wal-Mart hopes customers will sweeten its bottom line," he said.
NBC5 is doing a great job of that already, even if its ratings -- and thereby Wal-Mart's exposure -- aren't nearly as strong as they used to be.
The retail chain's "latest supercenter" also got a brief mention on CBS11's Tuesday, 10 p.m. newscast, with anchor
Karen Borta
devoting about 15 seconds to a reader with visuals. Fox4 and Belo8 didn't mention the new showplace. None of these three stations have Wal-Mart streaks in play.
Belo8 instead had a fun, featured investigation of parking lot perks at D-FW airport, where about 150 state elected officials pay nothing. This enabled reporter
David Schechter
to go head-to-head with former Fox4 reporter Ken Capps, who's now vice president of public affairs for the airport.
"Basically it's good will," said Capps. Schechter then deployed a prop to help make his story go 'round. He plucked a vintage, well-worn piece of luggage with "Politicans" on it from a baggage carousel before noting that some of these lawmakers leave their cars at D-FW while taking vacations abroad and elsewhere. Several have run up bills in excess of $500, but paid nothing, Schechter told viewers. Their spouses can park gratis, too.
Of course none of the lawmakers would talk to him. As proof, viewers could see Schechter flailing away on the telephone in Belo8's newsroom. He should know by now that politicians usually behave just like most media companies. They roll up the sidewalks whenever an uncomfortable media spotlight is trained on them.
Capps was willing to keep sparring with Schechter, though. Letting lawmakers park for free actually saves the taxpayers money, the reporter was told.
In turn, "we hope they remember us when they're doing their business (in Austin), Capps said. "But we ask for absolutely nothing in return."
All four stations took note of the "patchy frost" waiting to bedevil thin-skinned North Texans Wednesday. Only CBS11 kept this alert on ice rather than put it at the top of the newscast.
Tuesday's Trinity River toll road vote, won by proponents, prompted reports from two well-seasoned warhorses who very seldom get seen these days on the 10 p.m. shows.
Bud Gillett
reported on the results for CBS11 and
Ken Kalthoff
did the same for NBC5. It was nice to see a little experience in play. See you next election night, guys.
Meanwhile, Fox4 has the best sweeps gimmick going for it. The station's "Greatest Cowboy Ever" countdown, helmed by sports anchor
Mike Doocy
, so far has yielded Don Meredith at No. 10 and Mel Renfro in the ninth spot. Both were reprised with some really nice vintage footage on the Monday and Tuesday 9 p.m. newscasts.
All rulings are final, with Fox4's sports staff making the calls while viewers are encouraged to weigh in. It's not going to be all that easy down the stretch, especially with these Cowboys still in play: Roger Staubach, Randy White, Tony Dorsett, Drew Pearson, Emmitt Smith, Michael Irvin, Troy Aikman, Bob Hayes, Ed "Too Tall" Jones, Charles Haley, Cliff Harris, Charlie Waters, Bob Lilly and Darren Woodson.
And should Tom Landry be included, or does "Greatest Cowboy" only mean players? Whatever they decide, this is a good idea that likely will have many viewers coming back for more.