Deion and Pilar the latest celebs in local TV glare
04/25/12 09:11 AM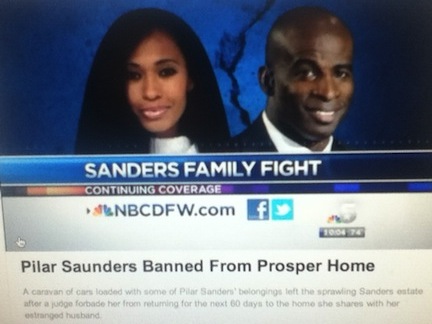 NBC5 touted a "Sanders Family Fight." Image from nbcdfw.com
By ED BARK
D-FW television stations predictably have been all over the Deion and Pilar Sanders mess since he live-tweeted Monday night that she had assaulted him at home with their two sons present.
It's their business to be in your business, except when it concerns questionable activities at their own stations. Then it's usually quiet time. End of oft-preached mini-sermon.
Deion willfully put himself in the center ring via his
Twitter dispatches
before Pilar tearfully proclaimed her innocence to reporters the following day with her attorney present.
NBC5's reliably intrepid Ellen Goldberg did the best job of advancing this sorry but juicy story Tuesday while CBS11's Jay Gormley took a different tack in an interesting piece on how impulsive social media outbursts increasingly are used against one or both parties in divorce cases.
Their reports are below.
View more videos at: http://nbcdfw.com.