Local Nielsen ratings snapshot (Thurs., Feb. 6) -- Leno soars, Olympics slip in first hour
02/07/14 10:53 AM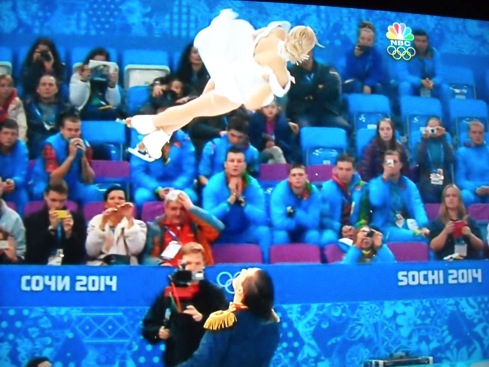 Dazzling Russian pair achieved liftoff on Olympics' opening night.
Photo: Ed Bark
By ED BARK
@unclebarkycom on Twitter
NBC's first night of Olympics coverage and Jay Leno's farewell
Tonight Show
took most of the ratings golds after a slippery start for the Winter Games.
CBS'
The Big Bang Theory
had 539,699 D-FW viewers from 7 to 7:30 p.m. Thursday to outdraw that portion of the Olympics (489,990). And from 7 to 8 p.m. in D-FW, advertiser-prized 18-to-49-year-olds preferred Fox's
American Idol
by a fairly large margin over the Olympics.
The Peacock's full three hours of coverage likewise averaged 489,990 total viewers, losing only to
Big Bang
in that measurement.
But
Idol
so far has been kicking it up a few notches this season in TV's most sought after demographic. And it had 280,076 viewers in the 18-to-49 age range Thursday night, handily whipping the first hour of the Olympics (201,915).
Big Bang
also beat the Winter Games with 237,739 viewers of the 18-to-49 persuasion.
Perhaps the Sochi organizers should have thought twice about opening the Olympics with figure skating, snowboarding and skiing preliminaries before Friday night's official Opening Ceremony, which is certain to completely dominate that night's Nielsen ratings against far easier competition.
Thursday's other big TV attraction, Leno's
Tonight Show
swan song, rolled up 397,673 total viewers, with 198,659 of them in the 18-to-49 motherlode. That left his now former rivals picking at their broken teeth. CBS'
Late Show with David Letterman
had 63,912 total viewers, with 29,962 in the 18-to-49 age range. ABC's
Jimmy Kimmel Live
had respective totals of 56,810 and 27,682.
ABC could have just as well shut down for the night -- in both prime-time and late night. The network's 7 to 10 p.m. lineup of
The Taste
(92,317 total viewers) and a
Shark Tank
repeat (63,912 viewers) ran farther out of the money than Mr. Ed in the Kentucky Derby. Their 18-to-49 totals also were pitiful, with the CW's
Vampire Diaries
and
Reign
punching
The Taste
down to fifth place.
In Thursday's local news derby results, NBC5 began basking in the warmth of the Olympic torch with dominating wins at 10 p.m. in both total viewers and 25-to-54-year-olds (main advertiser target audience for news programming).
The Peacock also swept the 5 p.m. competitions and added a 6 p.m. win in total viewers.
Fox4 otherwise ruled, running the table at 6 a.m. and also winning at 6 p.m. among 25-to-54-year-olds. On a freezing, snowy Thursday morning, Fox4 impressively reeled in 164,534 viewers in the 25-to-54 demographic during the 6 to 7 a.m. portion of its
Good Day
. That more than doubled the total of runner-up NBC5 (67,032) while WFAA8 (54,844) held off CBS11 (45,704) to take the bronze.
Email comments or questions to:
unclebarky@verizon.net