Local Nielsen ratings snapshot (Thurs., June 9) -- higher and higher for Mavs' Game 5 win against Heat
06/10/11 01:55 PM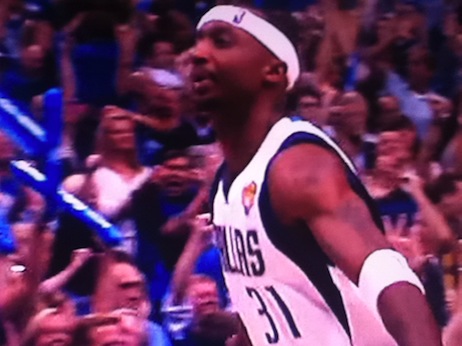 It's Project Runway for "Jet" Terry after huge 4th quarter 3-pointer.
Photo: Ed Bark
By ED BARK
Game 5 of the NBA Finals drew the biggest D-FW crowd to date, with 1,426,694 viewers watching the Dallas Mavericks beat the Heat 112-103 on the LeBron Broadcasting Company, er, ABC. That beat Game 4's total of 1,308,957.
The Mavs, now within one win of their first NBA crown, also hit a new high among advertiser-coveted 18-to-49-year-olds, averaging 753,547 for a game that ran from 8:07 to 10:45 p.m.
The peak audiences as usual came in the final 15-minute increment, when 1,869,939 total viewers and 993,761 in the 18-to-49 age range tuned in. Many stayed around to bask in the first 15 minutes of the ABC/WFAA8 post-game coverage, with 10:45 to 11 p.m. scores of 1,419,769 total viewers and 786,453 of the 18-to-49 persuasion.
The Game 5 Mavs-Heat total viewer figure came within a hair of the biggest audience for last fall's Texas Rangers-San Francisco Giants World Series. The Giants' clinching Game 5 win on the Rangers' home field averaged 1,433,620 total viewers. Sunday night's Game 6 of Mavs-Heat is a virtual cinch to top that, unless the Mavs are being thoroughly blown out.
The Mavericks also are well within range of beating the Dallas Cowboys most-watched game of last season. A Dec. 10th matchup against the visiting Philadelphia Eagles, with Dallas still nominally in contention for a post -season spot, drew 1,627,540 total viewers on NBC's
Sunday Night Football
. Only one other Cowboys game, the season opener against Washington, drew a bigger crowd than the Mavs' Game 5. It had 1,574,422 viewers.
The Cowboys' worst-drawing game of last season was a Halloween afternoon home loss to Jacksonville. It averaged 907,276 viewers as the warmup act for that night's Game 4 of the World Series at neighboring Rangers Ballpark (1,288,180 viewers).
In Thursday's local news derby, NBC5 racked up another pair of wins at 10 p.m. in a downsized three-way field. The Peacock drew just 90,034 total viewers opposite Mavs-Heat, though. That may be a new low for a first place finish. NBC5 also took the gold with 25-to-54-year-olds, the main advertiser target audience for news programming.
The 6 a.m. spoils were split between NBC5 in total viewers and Fox4 in the 25-to-54 demographic.
WFAA8 ran the table at 6 p.m. and also notched a 5 p.m. win in total viewers. NBC5 and WFAA8 tied for first place in the earlier hour among 25-to-54-year-olds.