Take it from Macy's and The Miami Herald: the Viceroys, not the Mavs, won the NBA title
06/13/11 11:29 AM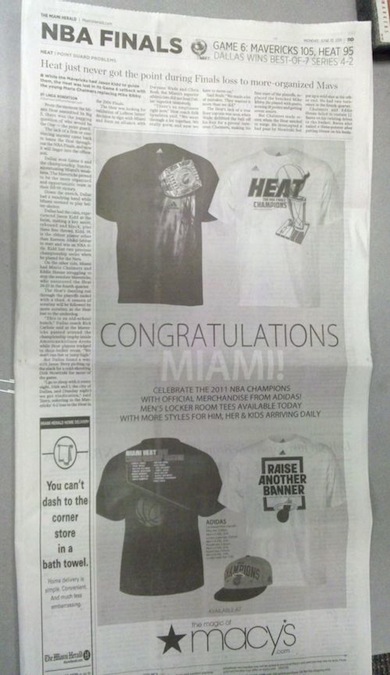 By ED BARK
The idiocracy involved here is stupendous. And delicious. Monday's
Miami Herald
duly reported Sunday night's Dallas Mavericks manhandling of the Miami Viceroys. But one of the stories ran right next to a big
"Congratulations Miami!" Macy's ad
encouraging fans to "celebrate" their team's latest championship by buying official t-shirts and hats.
A writer for the
Miami New Times
said it best: "Thanks,
Miami Herald
. You are the fourth-quarter LeBron James of local sports coverage."
In real life, the Mavs beat the Viceroys 105-95 to win the team's first NBA championship by a 4-2 margin in the NBA Finals. The
Herald
's brain trust supposedly is "investigating" how the newspaper could have been stupid enough to run the Macy's victory ad. Whatever the determination, Macy's shouldn't expect any refunds.
The only surprise here is how the LeBron Broadcasting Company, a k a ABC, could have missed out on this great chance to posthumously crown Miami as the new NBA champion after worshipping at the team's superstar altar for the entire series. There's still time, though. Perhaps after what could have been a climactic Game 7 Tuesday night, addle-headed LBBC analyst Jeff Van Gundy can take out a full-page
Herald
ad offering to do "King James' " laundry for the entire off-season.