Corning's Daybreak sex talk spot shouldn't be a keeper
03/25/13 10:52 AM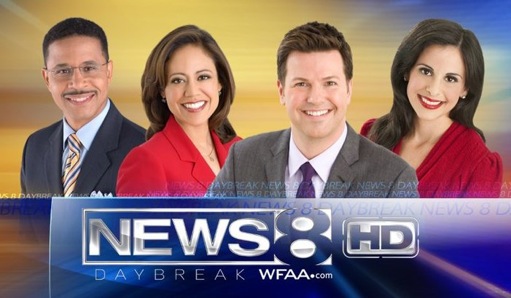 Still front & center: Ron Corning of WFAA8's Daybreak.
By ED BARK
@unclebarkycom
Co-anchor Ron Corning of WFAA8's
Daybreak
has been the focal point of station promotions ever since a
September 2011 spot
in which veteran sports anchor Dale Hansen gave the kid some tips on getting his name out there.
The saturation "Corning In The Morning" campaign helped to boost
Daybreak
's ratings while the show itself took a decidedly more comedic approach. Slap-happy, some might say. Particularly in the most-watched 6 to 7 a.m. hour.
Ratings momentum lately has slowed, though, with CBS11 now promoting itself as D-FW's "fastest-growing" waker-upper. In the
February "sweeps" ratings
, fourth-place CBS11 in fact did make the biggest ratings gains in both total viewers and 25-to-54-year-olds, the main advertiser target audience for news programming.
CBS11's early riser also is going for more laughs with its new anchor team of Brendan Higgins and Adrienne Bankert. But station promos continue to take a team approach, with meteorologist Garry Seith and traffic reporter Whitney Drolen also included.
WFAA8 in comparison has been all in on Corning, with co-anchor Cynthia Izaguirre, weathercaster Greg Fields and traffic anchor Alexa Conomos basically beside the point. Izaguirre knows the feeling from the opposite end, too. Her previous co-anchor, Chris Flanagan, was an invisible man before Corning's arrival while "Izzy" got the big promotional push. Flanagan, who never had a single spot tailored for him, is
now with Cleveland's WEWS-TV
.
The early push for Corning, who's now been in the early morning chair for two years, was bracingly inventive and for the most part funny. WFAA8's follow-up "More Ron!" campaign had less going for it.
But
Daybreak
's still unfolding "You Can Count On Us" campaign, starring Corning of course, has reached the full-blown creepy stage in a new spot that finds him using Barbie and Ken dolls (or a facsimile thereof) to give two elementary school kids a sex talk.
"And so, um, yeah, that is where babies come from. Any questions?" a cheery Corning asks while the little girl in particular is both stunned and speechless.
A dopey-looking "Dad" next pops his head in to ask Corning, "Is it over?" Corning gives him the thumbs up and then play-acts a little more -- here's where it gets even creepier -- while the on-screen print reads, "Ron Gave My Kids 'The Talk.' "
WFAA8, the self-appointed "Family First" station, really should know better than this latest Corning-centric spot. It's supposed to communicate
Daybreak
's determination to do it all for its viewers. Instead it leaves a bad taste by being in such very bad taste.
Corning is a talented, personality-plus anchor. But his station seems to be positioning him for a big fall by over-selling him at the expense of his colleagues. Now he's also being made to look ridiculous in a spot that at best trivializes sex education. There are some places a TV station just shouldn't go. This is Exhibit A.
Meanwhile, Izaguirre obviously has been busy as a first-time mother of twins no less. They're nearly a year old now, and it seems time to bring her back into the promotional picture. The rest of the early morning team also might benefit from a little attention.
Corning has been positioned as
Daybreak
's star player -- basically to the exclusion of everyone else -- for the past year and a half. But ratings lately have stalled while Fox4's far more team-oriented
Good Day
runs away in the ratings, particularly in the key news demographic of 25-to-54-year-olds.
Here's the sex talk spot, which perhaps also can serve as a wake-up call for WFAA8's promotions department. It's time to get with the program -- which isn't all Corning and no longer should be promoted as such.
Email comments or questions to:
unclebarky@verizon.net