Insights and Rochelle Brown are now out of sight at Fox4
07/02/09 05:01 PM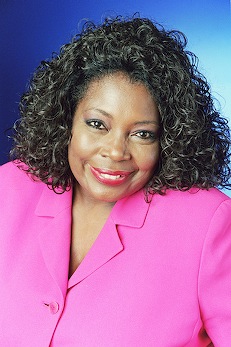 Rochelle Brown, formerly of Fox4By ED BARK
Rochelle Brown and the minority-targeted program
Insights
are no more at Fox4.
Insights
, which endured for 29 years on the Dallas-based station, had its last telecast on June 21st.
Brown, the show's first host and in later years its executive producer, was let go on the following day after more than 31 years at Fox4. She joined the station in January 1978, pre-dating even anchor Clarice Tinsley, who arrived later that year from a Milwaukee station.
"It's been amazing. A lot of people don't know we're gone yet," Brown said in a telephone interview Thursday. "I've been getting lots of calls from the community. People are still calling, pitching stories. And I have to say, 'Wait a minute.' "
Brown, 60, said she wasn't told specifically why
Insights
was canceled, but "I sort of expected it. The industry is in flux right now. It's crazy. I'm not sure what the station's rationale was exactly, but I guess it is sort of an end of an era."
Fox4 news director Maria Barrs has not answered an email inquiry asking for comment. The station, like many, generally does not talk publicly about personnel matters, except when hiring people.
The ongoing tough economy has led to cutbacks at all of D-FW's major TV news providers. Earlier this year, WFAA8 dropped
Young Street
and its staff. The "young adult lifestyles" magazine program had replaced
La Vida
and
Metro
, which respectively were aimed at Hispanic and African-American audiences.
Brown said that
Insights
initially "was put together with the premise that we would be a place for the average person to go tell a story. It was primarily an African-American program, but as the makeup of the city changed, we changed, too, to include Hispanics, Asians and other nationalities."
Brown joked that she plans to "start a companion blog, and I'm going to call it auntierose.com." But in reality, "I'm not sure what I'm going to do," she said. "I think this is a great opportunity to explore some other things that I've been interested in, so we'll see what happens."
Insights
, scheduled at 8:30 a.m. Sundays on Fox4, was hosted by veteran reporter Shaun Rabb until its cancellation. Brown remained the executive producer and occasionally filled in as host. Rabb remains at Fox4.
The final June 21st
Insights
drew 13,286 viewers, according to Nielsen Media Research numbers. On the following Sunday, the infomercial that replaced it had 3,986 viewers.
In other Fox4 developments . . .
Sources say the station has interviewed at least two applicants from outside the station for the
Good Day
co-anchor position. But the lid on this process is tighter than Joan Rivers' face.
Fox4 has been rotating in-house
Good Day
anchors since Megan Henderson left the show in late February to join KTLA-TV in Los Angeles.
Good Day
currently is running second in the early morning ratings behind NBC5.
***
Fox4's Baron James, who co-anchors the station's 5 and 10 p.m. newscasts with Tinsley, will be off the air for several weeks after he has surgery to remove a growth from his larynx. His speaking voice had been affected. James is expected to be back at the station sometime in August.