Numbers inch up for a number two-themed episode of RHOD
06/08/16 09:30 AM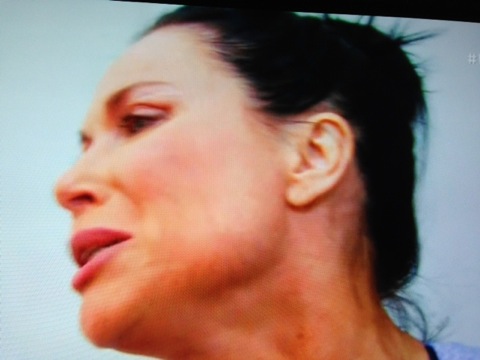 Offense again taken: Another "moment" with LeeAnne. Photo: Ed Bark
By ED BARK
@unclebarkycom on Twitter
Alcohol-soaked and also rich in poop nutrients, Monday's Episode 9 of Bravo's
Real Housewives of Dallas
continues to stink it up in the national ratings. But not as much as usual in the last two weeks.
In this one, the principals took a fractious road trip to Austin organized by the oft-besotted Brandi "Jesus Juice" Redmond. It drew 943,000 viewers, the series' highest total since the premiere hour had 1,076,000. Episode 8 drew 899,000 viewers. Just one episode remains in
RHOD
's inaugural season before the tacked-on June 20th "reunion" show.
RHOD
still ranks as by far the least-watched show among the nine in
Real Housewives
franchise history. And its Monday night lead-in,
Southern Charm
, continues to draw significantly larger crowds. Monday night's hour had 1,275,000 viewers before
RHOD
lost 332,000 of them. In the advertiser-craved 18-to-49-year-old demographic,
Southern Charm
had a .5 rating and
RHOD
a .4.
Among Monday's top 100 cable shows,
RHOD
finished a lowly 74th in total viewers according to the weekly tabulations by
tvbythenumbers
. So a Season 2 remains very iffy. And in terms of the images these women are projecting . . . well, Dallas perhaps would rather have a big pile of longhorn dung as its ambassador.
Speaking of that, things began heading south quickly on the mini-bus heading south to Austin, where the husbands of Brandi and her cackling pal Stephanie Hollman supposedly built a nice house for getaways.
"It's never too early to be drinkin' when you're goin' to Austin, Texas," Stephanie reasoned. And so they did, with Brandi peeing on board before talk again turned to the time that combustible LeeAnne Locken crapped her pants -- or took a dump in a sack (or something).
RHOD
yet again recycled the clip of a ratty little guy named Taylor regaling LeeAnne's foes with this story, which he supposedly heard from LeeAnne's longtime friend, Marie Reyes.
LeeAnne, who has shared this information only with Marie and her other gal pal, Tiffany Hendra, quickly shifted into mortified mode. "I'm so hurt," she told the camera. I can literally feel my heart leaking into my gut."
True story:
RHOD
then immediately yielded to a commercial for a bladder leakage product.
Finally at the getaway house, Brandi soon declared herself "super drunk" and later fell off her chair before LeeAnne went bat shit in the middle of the night at Marie and threatened to kill her. Cary Deuber happily oozed more sarcasm to the camera after being suitably appalled and perhaps even terrified by LeeAnne's latest apocalypse now. Then everyone went to a posh spa and later to a very uncomfortable dinner at Bob's Steak and Chop House. In an amazing show of restraint, the restaurant's trademark giant carrots did
not
make an appearance. Imagine what Brandi might have done with one of 'em. Missed opportunity.
By the way, weepy Marie again went crawling back to LeeAnne, prompting Stephanie to lob this line into play: "She takes it up the ass all the time. And then she asks for a hug after."
A tease for next Monday's season (and very possibly series finale) shows that the poor Byron Nelson golf tournament will be among the venues at the mercy of
RHOD
. The great deceased gentleman no doubt would rather 10-putt a green than be witness to any of this. Sand traps beware. Because on this bottom-scraping show, a girl's gotta go when she's gotta go.
Email comments or questions to:
unclebarky@verizon.net