Over and out for NBC5 anchor Brendan Higgins, CBS11 news director Scott Diener
01/17/10 05:36 PM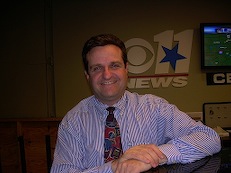 Done in D-FW: NBC5's Brendan Higgins, CBS11's Scott Diener
By ED BARK
Two surprise departures left NBC5 and CBS11 with significant holes to fill while your friendly content provider was otherwise occupied at the Television Critics Association "press tour" in Pasadena.
Brendan Higgins, co-anchor of NBC5's No. 1-rated early morning newscast, reached a contract talk impasse that led to his decision to leave the D-FW station after Sunday.
The Fort Worth Star-Telegram
's Robert Philpot reported confirmation of Higgins' departure Friday via an official statement from NBC5 vice president of content development Susan Tully.
"With Brendan's contract coming to an end, he and the station have agreed that Sunday will be his last day as a member of the NBC D-FW team," Tully said.
Higgins, who joined Deborah Ferguson as the early morning co-anchor in December 2003, later said in an email to the
Star-Telegram
, "My contract expires this weekend, and during talks we just decided to make an amicable split. I'm really going to miss working every day with an amazing team."
Various NBC5 newsers will fill in for Higgins until a permanent replacement is named. NBC5 topped the early morning ratings during the November "sweeps" ratings period in both total viewers and 25-to-54-year-olds, the main advertiser target audience for news programming. In both measurements, the station edged Fox4, which recently added Lauren Przybyl to its early morning team.
Higgins will continue to team with his wife, Jennifer on their
Miss Oops company
, which produces "solution-oriented products." Oops, the early morning ratings race just got wide open again, even though Ferguson, meteorologist Jennifer Lopez and traffic reporter Tammy Dombeck will remain in place. The puckish Higgins will be hard to replace, though. His sudden departure leaves No. 4 CBS11 with the longest standing waker upper duo in D-FW, Scott Sams and Ginger Allen.
***
Shortly after
leaving D-FW-based CBS11/TXA21 for KCBS-TV
in Los Angeles last month, former president and general manager Steve Mauldin has pirated
Scott Diener
to join him.
Diener, who had been CBS11 and sister station TXA21's news director since August 2007, will be replacing former KCBS news director Nancy Bauer-Gonzales, whom Mauldin sacked. Diener also will run the KCAL-TV news room in Los Angeles.
Diener, a native of Los Angeles, "has an outstanding reputation as a great leader who does an outstanding job of inspiring his colleagues to produce quality newscasts," Mauldin said in a statement announcing his hiring. "He will do a terrific job of leading our news team to exciting new heights."
Diener had joined CBS11/TXA21 in June 2006 as assistant news director. While in that capacity, Mauldin passed him over twice for the top job. He first hired
Greg Easterly
from Cleveland's WJW-TV in December 2006 to replace the departing Tom Doerr. But Easterly belatedly reconsidered over the Christmas holidays, prompting Mauldin to turn to Regent Ducas from Kansas City's CBS station.
Ducas' disastrous reign
ended after just five months, when Diener finally got the top job.
In a companion statement announcing his hiring at KCBS/KCAL, Diener said, "I am honored to be given the opportunity to lead the largest and one of the most distinguished local television news teams in the country and look forward to coming home to the Los Angeles area with my family."
CBS11 topped the 10 p.m. newscast ratings for the first time ever in November, edging WFAA8 by a speck in total viewers while the ABC station remained first with 25-to-54-year-olds.
Gary Schneider, who had been the incumbent senior vice president and station manager, has replaced Mauldin on an interim basis at CBS11/TXA21. There is no word yet on Diener's replacement.