DMN sports columnist again a no-show as Mavericks show who really lacks guts
04/29/11 09:21 AM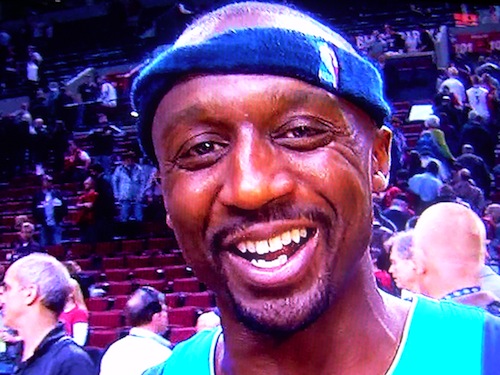 Jason Terry had good reason to grin broadly on TXA21. Photo: Ed Bark
By ED BARK
When you brand a team "gutless," it's both mandatory and manly to show up at crunch times to either dance on their graves or admit your mistake.
Sports columnist Jean-Jacque Taylor of
The Dallas Morning News
didn't have the guts to do that. In fact, he hasn't written a word about the Dallas Mavericks since eviscerating them after last Saturday's Game 4 debacle in Portland, which evened their Round one NBA playoff series at 2-2.
Taylor had nothing to say after Dallas thrashed the Trail Blazers in Monday's Game 5 at home. And when they guttily closed out Portland on their opponent's home court late Thursday night, Taylor was safely back in Irving pontificating on the Dallas Cowboys' first round draft pick.
Instead the paper sent columnists Tim Cowlishaw and Brad Townsend, and the redoubtable Eddie Sefko to the Rose Garden. All three are very capable, knowledgeable writers. But whether assigned to the Cowboys or not, Taylor should have demanded that he be there, too. Fair is fair, in both defeat and victory.
Taylor is entitled to his oft-wrong opinions. But calling a team at any level "gutless" is one of the very worst insults in the book. Were the Mavericks inept in failing to hold on to an 18-point fourth quarter lead in Game 4? Sure they were. Did they show signs of reverting back to the one-and-done form of recent post-seasons. Yeah, that, too. But there's no way that proud veterans such as Jason Kidd, Dirk Nowitzki, Jason Terry, Shawn Marion and Tyson Chandler were "gutless." No way in hell.
Maybe I got lucky in a
previous post
by predicting that the Mavericks would bounce back from the embarrassment of Game 4. But sportswriting was my first love, both in high school and college, before I somehow fell into the pit of TV criticism. So I know a little bit about the beat, and took immediate offense to Taylor's "gutless" screed in Sunday's
DMN
. The only way to follow up a column like that is to show up for future games. In print at least, Taylor so far hasn't been courageous enough to do that.
None of us are infallible, either as columnists or reporters. But the Mavericks at least corrected their mistakes in Games 5 and 6. They came to play and prove their critics wrong. Their pride showed. Maybe the Los Angeles Lakers will prove to be too much for them in Round 2. But it won't be because the Mavericks have no balls.
In that respect, I think we know who needs to man up. Maybe Taylor is capable of that. For his sake, I hope so.