Local Nielsen ratings snapshot (Thurs., Aug. 26) -- Rangers loss still amounts to ratings gain
08/27/10 02:03 PM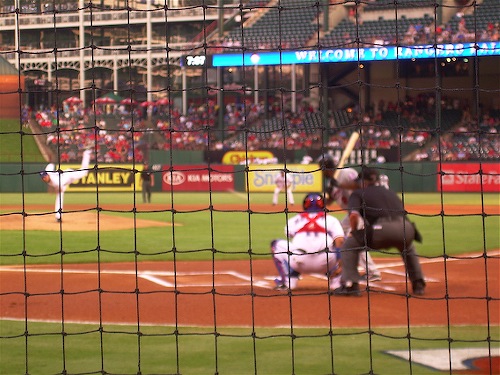 Cliff Lee throws his first pitch in Thursday night's Rangers home game against the Twins. He'd soon be down 5-0. Photo: Ed Bark
By ED BARK
A four-game home sweep of Minnesota looked like a definite possibility when supposed Texas Rangers pitching ace Cliff Lee took the mound Thursday night.
But Lee continued to struggle and the Rangers wound up losing 6-4 while the ratings deflated a bit for Fox Sports Southwest. The game averaged 196,803 D-FW viewers after 264,666 tuned in the night before. Still, only CBS' 9 p.m. repeat of
The Mentalist
had more viewers (210,375). And the game's spillover until about 10 minutes past 10 p.m. again outdrew the first 15 minutes of all four local late night newscasts.
Competing against the Rangers on ESPN, the mighty Green Bay Packers' thrashing of the Indianapolis Colts had 88,222 viewers.
In local news derby results, CBS11 had the most total viewers at 10 p.m., but WFAA8 ran first -- and CBS11 slid to fourth -- among 25-to-54-year-olds, the main advertiser target audience for news programming on most stations.
Verdicts also were split at 6 a.m., with NBC5 tops with total viewers while Fox4 nipped the Peacock in the 25-to-54 demographic.
Fox4 ran the table at 5 p.m. and also had the 6 p.m. gold among 25-to-54-year-olds. WFAA8 placed first at 6 p.m. in total viewers.