Local Nielsen ratings snapshot (Wed., Oct. 12) -- rain-delayed Rangers again reign in prime-time
10/13/11 03:23 PM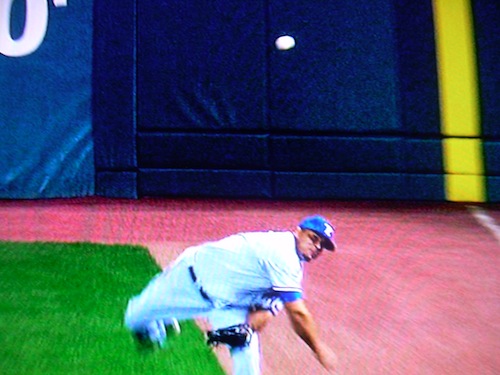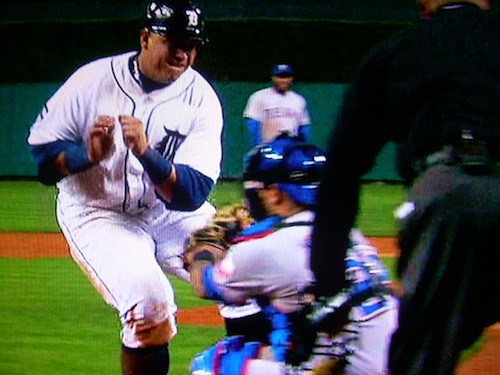 Rightfielder Nelson Cruz uncorks Texas Rangers' throw of the century before catcher Mike Napoli braces himself for a collision with Detroit Tigers hefty bag Miguel Cabrera. Yer out!!! Photos: Ed Bark
By ED BARK
Day day go away. Wednesday's Game 4 of the Rangers-Tigers ALCS replicated Monday's Game 2 by leaking well into prime-time. In this latest case, Fox ended up preempting a scheduled two-hour edition of
The X Factor
.
Fox4 of course didn't mind in the least. Texas' 7-3 extra inning win over Detroit, in a rain-delayed nail-biter that ran from 5:32 to 9:32 p.m., fell just short of the one million mark with an overall average of 955,148 D-FW viewers. A peak crowd of 1,388,691 watched between 9:15 to 9:30 p.m., when Nelson Cruz cemented the win with a three-run homer after earlier keeping the game tied 3-3 with an eighth-inning throw that cut down Miguel Cabrera at the plate.
Both the average and peak audiences for Game 4 were this fall's best post-season numbers so far for the Rangers. Tuesday's Game 3, which began in prime-time, had the previous high of 948,375 viewers overall while Game 2 had held the peak audience record of 1,341,272.
Opposite the Rangers, ABC's
Modern Family
was the most-watched attraction with 311,609 viewers. It also topped all non-Rangers programming among advertiser-coveted 18-to-49-year-olds.
ABC's new
Revenge
stayed strong in the 9 p.m. hour, whipping competing CBS and NBC cop dramas --
CSI: Crime Scene Investigation
and
Law & Order: SVU
-- in both ratings measurements.
Fox4's 10 p.m. news, devoted mostly to the Rangers win, profited from baseball's ratings afterglow. The station easily won in total viewers, with 379,350, while also topping rival local newscasts among 25-to-54-year-olds, the main advertiser target audience for news programming.
In other local news derby results, Fox4 likewise swept the 6 a.m. Nielsens before taking the early evening off in deference to the Rangers. At 6 p.m., the downsized three-way competition was topped by WFAA8 in both measurements. NBC5 won at 5 p.m. in total viewers and share the lead with WFAA8 in the 25-to-54 demographic.