WFAA8 anchor Gloria Campos hopes to be back early next week after back surgery (updated with note on WFAA8 newcomer Ron Corning)
04/25/11 07:51 AM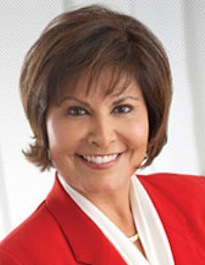 By ED BARK
It's been a rough several months for longtime WFAA8 anchor Gloria Campos, who had back surgery on Good Friday and earlier broke a kneecap in December after a fall outside the Dallas-based station's Young Street offices.
Her husband, Lance Brown, sent an email Saturday saying that Campos had the procedure to "remove some junk from her spine that had caused her great pain for weeks. She's sore today and not moving real well. But she's shooting to be back on the air Monday, May 2."
The one-month May "sweeps" ratings period starts on Thursday of this week, meaning that Campos will miss her regularly appointed 6 and 10 p.m. newscasts on at least the first two weekdays of the tri-annual competition.
On her Facebook page, Campos sent an Easter Sunday message thanking friends for their well-wishes.
"Feeling pretty good, still have slight numbness in left leg," she said. "Haven't sat in front of computer yet. Not supposed to bend, drive, sit for longer than 20-30 minutes at a time (or) carry heavy objects for two weeks."
PROGRAMMING NOTE:
Ron Corning's
previously scheduled Monday, April 25th debut as the new
Daybreak
co-anchor on WFAA8 has been delayed a bit. Instead Monday's early riser was co-anchored by incumbent Cynthia Izaguirre and traffic reporter Alexa Conomos.
"He should be on the air Wednesday," WFAA8 news director Michael Valentine said Monday afternoon. "We will introduce him today or tomorrow morning."