Local Nielsen ratings snapshot (Fri., Oct. 22- Mon., Oct. 25 -- Rangers, Cowboys both top one mil
10/27/10 08:49 AM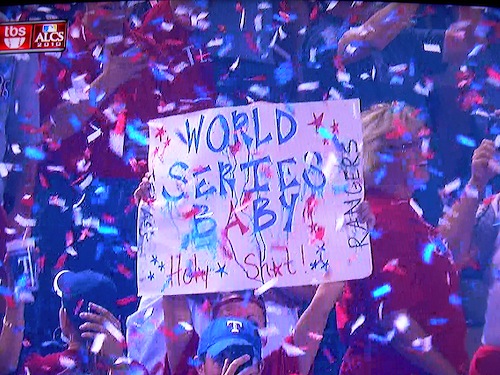 By ED BARK
Final numbers for the Rangers' close-out of the Yankees on Friday night and the Cowboys' death rattle on Monday night show both teams pulling in more than one million viewers.
Dallas' loss to the New York Giants, in which QB Tony Romo also went down, nipped the North Texas 9 to again reign as D-FW's heavyweight sports ratings champ. But that almost assuredly will change on Sunday, when Fox's prime-time Game 4 of the World Series originates from Arlington while CBS has a limp noon Cowboys home game against Jacksonville.
Cowboys-Giants, which ran from 7:41 to 11:09 p.m., drew 671,793 viewers on ESPN and 554,056 for the TXA21 simulcast. That's a grand total of 1,225,849.
Rangers-Yankees (7:07 to 10:08 p.m.) had 1,170,443 viewers on TBS. It's a local ratings record for the Rangers, who have a fighting chance to hit the 1.5 million mark with Wednesday night's opening game of the World Series in San Francisco.
The Cowboys' audience dwindled as New York piled up the points while viewing levels soared as the Rangers put the finishing touches on the defending champs.
Rangers-Yankees had 1,579,060 viewers from 10 to 10:15 p.m. (Nielsen measures in 15-minute increments). The Cowboys last-gasped in front of 914,192 viewers from 11 to 11:15 p.m.
In Sunday's pro football returns, the glorious Green Bay Packers' monkey-off-the-back home win against Brett Favre's Minnesota Vikings led all attractions with 637,164 viewers on NBC's
Sunday Night Football
.
The Patriots' narrow win over the Chargers ran second with 491,725 viewers on CBS, followed by Titans-Eagles on Fox (325,508 viewers) and Steelers-Dolphins on CBS (283,954 viewers).
On Saturday night, previously unbeaten Oklahoma's loss to still unbeaten Missouri drew 235,474 viewers in prime-time on ABC.
In Friday's local news derby results, CBS11 won at 10 p.m. in total viewers and tied WFAA8 for the top spot among 25-to-54-year-olds, the main advertiser target audience for news programming on most stations.
Fox4 again ran the table at 6 a.m., with WFAA8 moving into second place in both measurements ahead of a still slumping NBC5.
CBS11 swept the 6 p.m. competitions and WFAA8 did likewise at 5 p.m.
WFAA8 had a gainful day in Monday's local news results, controlling the 5 and 10 p.m. Nielsens and also topping the 6 p.m. field in total viewers.
Fox4 took the day's other three golds, with two firsts at 6 a.m. and a 6 p.m. win among total viewers.