Send coach Carlisle to the principal's office after Mavs flunk another playoff test
04/29/10 10:12 PM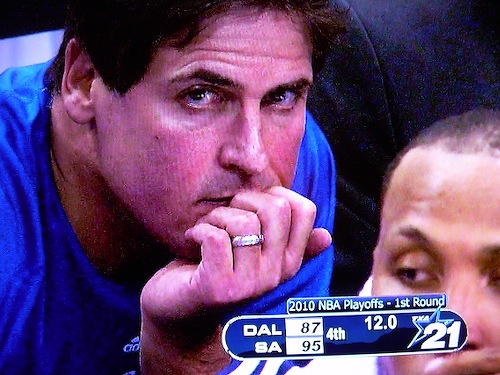 Owner Mark Cuban near the end. There will be blood. Photo: Ed Bark
By ED BARK
The lead sentence here initially was going to be quite different. Something like, "Clenched up and miserably inept, the Dallas Mavericks left their hearts in Frisco Thursday night."
But after a 22-8 first quarter deficit and a 22-point lead by the San Antonio Spurs at one point, the Mavericks rallied to take a very brief one-point lead at the 4:55 mark of the third quarter. They then inevitably faded down the stretch, losing 97-87 on the Spurs' home floor to make another early exit from the playoffs.
So no, the Mavs didn't die like dogs. But they did bury themselves nonetheless, with much of the blame going to Coach Rick Carlisle, point guard Jason Kidd (who played in cement sneakers all night) and shooting guard Jason Terry, who looked pretty much shot. Dirk Nowitzki as usual was a second half warrior, ending with 33 points. But his pair of stupid fouls in the second quarter made him mostly inoperative while his team struggled to climb out of a huge hole.
Carlisle will take a beating -- and very rightly so -- for waiting way too long to insert rookie guard Roddy Beaubois for his first meaningful playing time in this series. He sparked the Mavs where Kidd couldn't, scoring 16 points in just 21 minutes while Terry managed just a lone field goal in roughly the same amount of playing time. Kidd had a grand total of three points, and is incapable of penetrating or finishing anymore.
But then what did Carlisle do? He inexplicably pulled Beaubois in favor of Terry for much of the fourth quarter. The Dallas offense again slowed to the speed of a cement mixer, with Kidd at the half-court throttle and Terry doing nothing. A game that was still well within reach slipped away while Beaubois rode the pines. He didn't return until 2:44 remained in the fourth quarter, with the momentum-less Mavs down 89-81 after Spurs guard George Hill hit another dagger three-pointer. It was too late by then. And Kidd was too gassed and slow-footed to effectively cover any of the Spurs' guards.
Kidd ended up logging 43 minutes, way too much for a 37-year-old who very much looked to be on his last legs during the post-season grind. J. J. Barea could have been brought in to ease his load in Thursday's deciding Game 6. But Carlisle played him for just 6 minutes.
Owner Mark Cuban now must do the inevitable -- and he no doubt will. Not blow up the team, but make it considerably younger.
Terry will have to be released or traded. Ditto for two other geriatrics -- Shawn Marion and Erick Dampier. And Kidd, if he wants to fill out his contract, must give way to Beaubois next season. He may not be psychically capable of being a part-time player. If not, release him. The Milwaukee Bucks, still alive in the post-season despite decimating injuries to star players, went full-in with kid point guard Brandon Jennings this season. He's survived, learned and now is indispensable to both the Bucks' improbable playoff run and the team's long-term future.
I feel bad for Dirk. He may never get a ring. But newcomers Caron Butler and Brendan Haywood -- plus Beaubois -- still make for a solid supporting cast. Obviously they need help, though. Hey there, free agent Chris Bosh, it's time to rediscover your Dallas roots. Come home. Come home!
For now, though, it's still a bitter pill. For the third time in the last four seasons, the Mavericks are one and done in the post-season. And they probably got to the second round last year only because the crippled Spurs were without Manu Ginobili, who scored 26 points with a busted nose Thursday night.
On the hometown TXA21 post-game show, analyst Derek Harper raked Carlisle for not playing Beaubois throughout this series. The Mavs needed up-and-down quickness, and Roddy B certainly has that. But Carlisle stubbornly clung to too much Terry and Kidd.
In the end, all three games in San Antonio were winnable. Dallas had double-digit leads in two of them, but couldn't close the deal. And then on Thursday, they started the game as though they were going to a funeral before taking a shot at rising from the dead when Beaubois got rolling.
Carlisle then played his own undertaker, removing Roddy and falling back to his old habit of playing the geezers at crunch time. Maybe the Mavs don't win anyway. But with Kidd and Terry riding the range, you already knew it wouldn't end well. The thrill was gone.