Hansen-style: blow off Texas Rangers as long as possible (updated to include rebuttal by Hansen in "Comments" section)
09/05/09 01:33 PM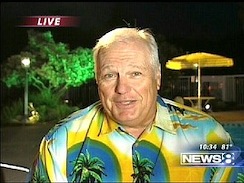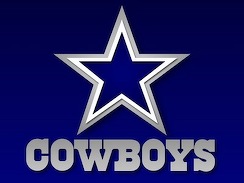 WFAA8's Dale Hansen always dresses his best for the Cowboys.
By ED BARK
No one says it more than WFAA8 sports anchor Dale Hansen. In fact it's been his mantra in recent weeks. Dallas Cowboys pre-season games are meaningless, worthless and probably shouldn't be played at all.
But talk is cheap, as Hansen again proved during Friday's 10 p.m. newscast.
The Cowboys had just ended their pre-season via a bumble-filled, truly meaningless game against Minnesota, with both teams resting their first-stringers throughout.
On the same night, the gutty, injury-riddled Texas Rangers won a genuinely meaningful game at Baltimore, moving within two games of Boston in the hot chase for a post-season wild card spot. It continues to be a helluva story.
Hansen mostly couldn't be bothered -- with baseball, of course.
"Just for you, I'll get to the Rangers eventually," he told anchor Gloria Campos.
"Way at the bottom of the rundown," she noted
Hansen then led his sportscast with highlights from the Cowboys-Vikings game after noting, "There was a lot of bad football tonight."
"And it's finally over!" he later rejoiced. "The games start counting next week."
He next went to a selection of high school football highlights, followed by some national and local college football stuff. The Rangers were his caboose, prompting Campos to note, "You're leaving the good news 'til the end."
"Just for you," Hansen told her, saying in so many words that the Rangers were fortunate to be included at all. "It's a chance to be a good September," he added.
On Tuesday's 10 p.m. newscast, Hansen emphatically said the Rangers wouldn't make it to the post-season, but at least were still trying hard on that particular night by sweeping a doubleheader from Toronto. Gee, thanks.
The Rangers and baseball in general rank somewhere below beach volleyball in Hansen's sports pecking order. OK, that's an exaggeration, although not much of a one.
Here's the deal, though. If Cowboys' pre-season games count for nothing -- as Hansen keeps preaching -- then why not dump them toward the middle or end of his sports segment on a night when the Rangers' fourth consecutive win in fact counted for a lot? Instead, Hansen treats coverage of the team's against-all-odds stretch drive as a nuisance -- or a sop to Campos. It's not laughable anymore. In fact it's kind of contemptible on his part.
Hansen's basic retort -- and I've heard it many times -- is that this is a football town, period. And that he must be doing something right because WFAA8's 10 p.m. newscasts are still No. 1 in the Nielsen ratings. As are his extended Sunday night sports specials.
That held true during the last major ratings period -- the May "sweeps." So Hansen still has both of those legs to stand on, even though it's been a very wobbly summer for WFAA8's Nielsen numbers.
Not for the Rangers, though. Their TV ratings are significantly up and this is promising to be the team's best summer in a decade, with meaningful games in abundance down the stretch.
It'd be nice if Hansen symbolically would take notice by taking himself out to the ballpark when the Rangers return home this Friday. Maybe he could even wear a Hawaiian shirt -- his showy ritual at Cowboys' training camp -- as a peace offering of sorts. At least it would show he's paying attention for once.
Meanwhile, go Rangers -- whether Hansen gives a crap or not.