This just in: a night in the lives of D-FW's late night newscasts (Mon., Nov. 19)
11/20/07 11:31 AM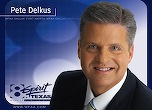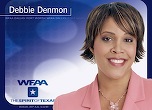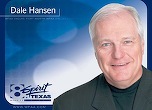 By ED BARK
Live at the Improv, weatherman
Pete Delkus
and sports anchor
Dale Hansen
had a pseudo-gay old time again Monday night.
And earlier from Austin, correspondent
Debbie Denmon
got all girly with
The Bachelor
finale at a raucous Sixth Street bar.
Belo8's dominant 10 p.m. newscast already is the slap-happiest in town, but this one spiked the punch and wore lampshades. Co-anchor
Gloria Campos
even flashed a little cleavage while old school headmaster
John McCaa
loosened his belt a notch.
Not that there isn't plenty to celebrate. Belo8's late night newscasts are like chainsaws cutting through plywood, reducing the competition to sawdust on most nights. So send in the clowning, which invariably escalates whenever Hansen's in the house.
Delkus had mourned the absence of an ill Hansen on Friday night's newscast, professing his "man-love" for the ol' hefty bag.
"It was a bad cold," Hansen told him upon Monday's return to action. "And then I see that nonsense that you miss me and you love me. One night at our swimming party does not count. And then I got sick all over again."
Yo ho ho and a bottle of Dale's favorite rum. Pete then retorted at newscast's end.
"Hey, you said you weren't going to tell anybody about the pool thing," he jabbed Hansen before a gamely grinning McCaa urged Belo8's
Crassus and Antoninus
to "Leave it alone."
McCaa earlier seemed a bit perplexed by Denmon's live dispatch on
The Bachelor
's end-game. Austin-based bar owner Brad Womack decided to give neither of his final suitors a rose despite professing his love for them throughout the episode. The cad.
One female bar patron told Denmon, "We were completely shocked and disappointed." Meanwhile, a male customer made variations of the peace sign behind her.
"You thought he was a gentleman, right?" Denmon probed.
"Well, I think he still is," the woman replied.
"What!" Denmon protested. "He left the girl hangin'."
"I can't help it. He's so good lookin'," said the woman before Denmon pivoted over to two more happy campers who likewise said they still have the hots for Womack.
"Don't know quite what to make of any of that," McCaa then mused while Delkus laughed uproariously. His forecast of plunging Thanksgiving Day temperatures is "not as exciting as what we just saw in Austin," Playful Pete added.
He's got that right. But ratings are boffo for Belo8's 10 p.m. newscasts, and the almost nightly hijinks apparently aren't hurting. Still, Monday's show did seem to go more than a little bit bonkers.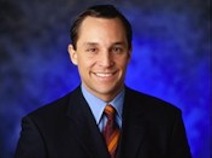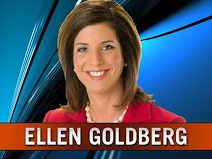 CBS11's Bennett Cunningham and NBC5 newcomer Ellen Goldberg
CBS11 led its Monday, 10 p.m. newscast with a big, showy "Gotcha" investigation from
Bennett Cunningham
.
His extended "Overseas Adventure" piece tracked five executives from the North Texas Tollway Authority to a business conference in Vienna, Austria, where the total tab built to $42,500 just a week after tolls were raised for commoners. Hidden cameras tracked some execs playing hooky in times when they were supposed to be attending seminars. One even bought a walking stick. But they all found time to attend the conference's prototypically "lavish" parties and dinners, viewers were told.
Cunningham would do well to pull back a bit rather than baste his narratives with an overcoat of sarcasm. But this was pretty juicy stuff, and Cunningham had the added advantage of a camera-friendly NTTA bossman. The agency's new executive director, Jose Figueredo, sat down with the CBS11 reporter and tried to absorb his best shots.
"I'm disappointed that we didn't hold as true to the line as I had wanted us to," Figueredo said after Cunningham showed him some embarrassing undercover camera video. "But again, I just got here."
Figueredo also sought to defend the executives and said that the toll increases had nothing to do with "our travel policy." But in the end he conceded, "It's not acceptable what I saw there."
Cunningham's own expense reports on his trip to Vienna weren't a part of this story. For his sake, he'd best have taken his meals at Wienerschnitzel-On-a-Stick or some equivalent.
Over on NBC5, new reporter
Ellen Goldberg
further advanced a story she's been ahead on. Last week's brutal assault of elementary school teacher Sheryl Walsh in a North Dallas Tom Thumb parking lot may have been preceded by the same assailant's purse-snatching at a Mesquite Albertson's, authorities believe. In each case, apparently the same black SUV was caught on surveillance cameras.
Both crimes were committed on the same day, said Goldberg, who also reported that Walsh's condition had been upgraded to serious at Parkland hospital. None of NBC5's rivals had any of this new information on their Monday late night newscasts.
THIS AND THAT***
Fox4 consumer reporter
Steve Noviello
, cast as an avenging cartoon character in station promotions, splashed in with his "Point and Shoot Showdown."
Combatants were three digital cameras with escalating "mega pixels" and prices. Would the most expensive camera also take the best pictures? A veteran photographer basically couldn't tell the difference after Noviello snapped the same shot with each camera and had it developed at the same place. Not a bad little story.
***
As posted earlier Monday, NBC5 reporter
Nigel Wheeler
, a k a Kali Green, is the budding "Rock Star" teased in promotions for that night's 10 p.m. newscast.
Wheeler, lead singer for the Dallas-based band
Egress
, is quitting the station after three years to devote all of his energies to a music career.
"It seems like most of the world thinks I'm totally nuts for what I'm about to do," Wheeler said on the newscast. His father, for instance, "described the decision as catastrophic."
But Wheeler's going to take his shot, and more power to him.
"Hopefully next time you'll come and you'll see us at the American Airlines Center," he said.
***
Ace Belo8 medical reporter
Janet St. James
unaccountably gushed over a chef who makes pricey dishes that are low on fat, sodium and cholesterol. Consumers trying to lose weight can have them delivered to their homes. Mmm mmm good. Otherwise it all smelled too much like an infomercial, and St. James is usually above that.
***
Fox4 anchor
Steve Eagar
used his tongue as a machete during a "News Edge" reader on the suicide of a 13-year-old girl who became despondent after an Internet-met boyfriend suddenly began insulting her. It turns out that the boyfriend and the on-line insult campaign were concocted by a mother who had it in for the teenage girl.
"Straight out of the 'Texas Cheerleader Mom' sicko handbook," said Eagar, who added, "There's a special place for her waiting." Hard to argue with that.
***
NBC5 had another technical foulup, briefly re-displaying a "Staph Infection" graphic at the start of a brief story on a new list of safest and most dangerous cities. And anchor
Mike Snyder
lobbed another punch line that played dead after an end-of-newscast brief on Plano scuba divers posing underwater in Christmas costumes.
"I think that's pretty cool," said Snyder. "But some people'd say they're all wet."
"Well, maybe," riposted anchor
Jane McGarry
while Snyder chortled at his wit. "I think Scuba Claus needs a bikini myself."
Sports anchor
Newy Scruggs
as always sat mute with a frozen smile until NBC's
Tonight Show
kicked in. Who can blame him?