Two pair on Thursday's Daybreak
02/09/12 07:50 AM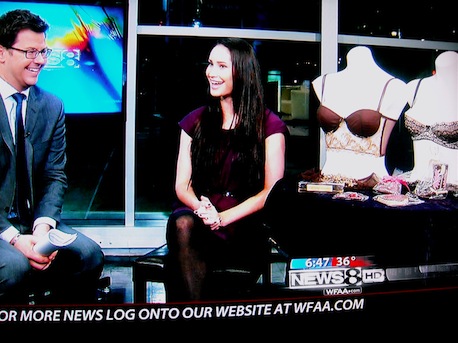 Daybreak's ratings are no longer a big bust, but . . . Photo: Ed Bark
By ED BARK
You don't often wake up to visuals like these on an early morning local news program.
WFAA8's
Daybreak
went for it Thursday, though, with a segment on Valentine's Day gift-gifting that included a lingerie-clad four-pack on a pair of mannequins.
Co-anchor Ron Corning presided, with help from
D
magazine's Raya Ramsey. In addition to undies, she suggested several restaurant and chocolate options for your sweetheart. Corning listened attentively and stayed away from any word plays.
Daybreak
long has been No. 3 in D-FW's early morning news wars. But a saturation "Corning Taking Over the Morning" ad campaign -- in addition to his boyish appeal and comedy stylings -- have helped to put the program within striking distance of No. 2 NBC5 in the key 25-to-54 news demographic. The stations so far are running neck-and-neck in the early stages of the February "sweeps" ratings period, with Fox4's
Good Day
still pretty comfortably on top.
Corning arrived from New York to
join Daybreak
and co-anchor Cynthia Izaguirre in late April. He wore glasses on the air Thursday, telling his mates that allergies apparently were preventing him from seeing with his contacts. Told that he looked like Clark Kent, Corning agreed that he was Superman before Izaguirre cracked, "In your own mind."
Izaguirre is pregnant with twins, and her due date is May 17th, she told viewers in mid-November. That would be right in the heart of the May "sweeps," so Corning likely will be paired with an interim anchor for all or much of that month.
On Thursday's
Daybreak
there were other pairs in view. Hey, it's the sweeps.