Up and comer: WFAA8's Colleen Coyle has national stage this week on ABC's GMA
06/02/11 11:33 AM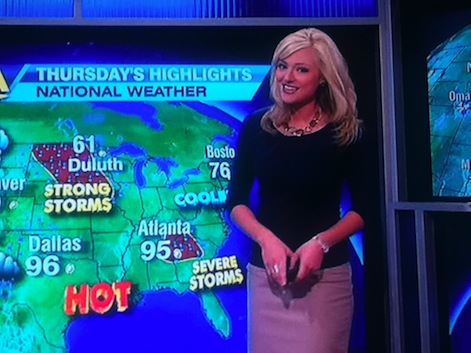 WFAA8 meteorologist Colleen Coyle has been subbing on GMA this week for regular temperature taker Sam Champion. On Thursday's show, she said it's going to be another sizzler in Dallas. Photo: Ed Bark
By ED BARK
Colleen Coyle has yet to complete her first year at Dallas-based WFAA8 after
joining the station last July
as a weekend morning weathercaster.
Somebody up there in New York City already likes her, though. Coyle is smoothly subbing for Sam Champion this week during
Good Morning America
's weather segments. On Thursday's show, she seemed completely at home while also noting that it will be another scorcher for "all my friends in Dallas."
Coyle joined WFAA8 from KPSP Local 2 in Palm Springs, CA and earlier was a weather producer at WSB-TV in Atlanta. WFAA8 lately has been giving her a higher profile. Coyle reported from the station's helicopter during the recent heavy storms in North Texas and also was a key player in the 10 p.m. tornado special that replaced WFAA8's regular 10 p.m. newscast on the last night of the May "sweeps" ratings period.
The Georgia Tech graduate could not be reached on Wednesday and Thursday to talk about her New York City experiences. But in an earlier video chat with WFAA8's
Daybreak
anchors, Coyle said it was her first visit to the Big Apple and that she's spent a good part of her off-time walking around Manhattan.
"It has been going fabulous so far," she said, although
GMA
co-anchor George Stephanopoulos has been gumming things up a bit by rooting for the Miami Heat in the NBA Finals. But deskmate Robin Roberts is a Dallas Mavericks fan, Coyle added. So she has an ally.
Meanwhile, new
Daybreak
co-anchor Ron Corning wondered why Roberts hadn't tweeted him back yet. And Cynthia Izaguirre expressed a little wardrobe envy by telling Coyle, "I love the new outfits you're wearing, by the way."
Coyle wraps up her
GMA
adventure on Friday before coming back down to earth at WFAA8. Look for her to be getting lots more to do in the coming months.
LOCAL NEWS NOTES
Video of Coyle's
Daybreak
drop-in from
GMA
studios is below. But first a few words about Chris Salcedo and LP Phillips.
Phillips has left Dallas-based CW33's newsroom, where he was a general assignments editor and reporter, and returned to full-time duty at KRLD-AM (1080) radio. So the carousel keeps revolving at a station that always seems to be subtracting and adding.
Salcedo, formerly an anchor-reporter at CBS11/TXA21, has landed at
America's Radio News Network
, where he's co-anchoring the 11 a.m. to 2 p.m. (central) news bloc. ARNN is based in Washington, D.C. One of his colleagues is former KRLD radio morning drive co-anchor Ernie Brown, who also recently joined ARNN. As previously posted, ex-CBS11 early morning anchor Scott Sams has replaced Brown at KRLD.