This just in: a night in the lives of D-FW's late night newscasts (Wed., Nov. 7)
11/08/07 01:39 PM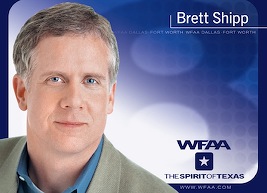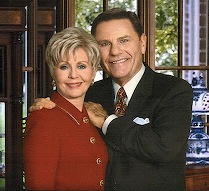 Belo8 investigator Brett Shipp and the lavish-living Copelands.
By ED BARK
The scent of fresh televangelist meat is in the air, and few savor the smell more than Belo8 gumshoe
Brett Shipp
.
News this week of the Senate Finance Committee's probe into the fundraising practices of six media preachers prompted Shipp to set sail again against Newark, TX-based Kenneth Copeland Ministries. He's been on Copeland's case in the past, as evidenced by replayed confrontations on Belo8's Tuesday and Wednesday 10 p.m. newscasts.
But Tuesday's segment was just a finger lickin' good appetizer for Wednesday's lead story on whether Kenneth and Gloria Copeland ever even see the "prayer requests" they solicit from the faithful. Shipp told viewers that the "lifeblood" of Copeland Ministries is "tens of thousands of tax-free dollars that roll in on a mail truck everyday."
In return for a contribution, the Copelands pledge to personally ask God's help, forgiveness or whatever else is called for. Not so said a collection of former employees, one of whom declared, "We were treated like galley slaves."
Underlings in fact prayed over thousands of unopened prayer requests while the Copelands were seldom seen or heard, Shipp was told. One of the ministry's former employees, Nathan Boutwell, said that's understandable given the volume of mail. But he said that the Copelands sin in pretending otherwise.
Shipp's efforts to reach Kenneth Copeland paid off in an earlier report after he and a cameraman were able to "slip past his backstage security." The clips are still delicious, with an initially amiable Copeland frosting over after Shipp asked him whether he actually personally prays over his ministry's flood of requests.
"Oh yes, absolutely," he told Shipp, who incredulously asked again. Copeland eventually began pointing an accusatory finger at Shipp, telling him, "You don't want to talk about the productive side of the ministry. You just want to run me down . . . And I don't understand that."
Shipp closed his report by acknowledging that Belo8 has heard from upset followers of Copeland who likewise charge him with ignoring the ministry's positives.
Televangelists as a whole, though, have provided ample reason for skepticism. The litany goes on and on.
Shipp, on the other hand, is not big on sharing credit. When the Finance Committee probe was first announced, Fox4 reporter
Jason Overstreet
focused on longtime televangelist scourge Ole Anthony and his Trinity Foundation. Anthony's longtime efforts in this arena also helped spur the congressional investigation, but Shipp never mentioned him in his reports. That would be the sporting thing to do, even if Shipp understandably is spotlighting his own efforts to bring Copeland to his knees.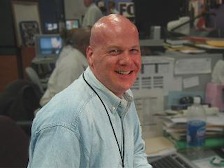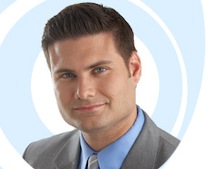 Extra credit: Fox4's Scott Sayres and Belo8's Craig Civale
All four stations reported Wednesday on a new hybrid SUV being manufactured only in General Motors' Arlington plant and a police-sanctioned graduation ceremony for a group of voluntary Oak Cliff crime watchdogs. But only two 10 p.m. newscasts respectively fleshed out those stories beyond brief video and anchor narration.
Fox4's
Scott Sayres
went to the Arlington plant in light of a record $39 billion loss for GM in this year's third quarter. The new gas-efficent hybrid GM is viewed as a possible lifesaver, not only for the corporation but for its Arlington plant. Sayres covered these bases without turning his report into an infomercial. A lot of livelihoods are in the balance, too, and this was a good, solid look at the stakes involved.
Belo8's
Craig Civale
was the only reporter to give viewers an up-close look at what the Oak Cliff crimefighters are trying to do for their neighborhood. They have no police powers, but provide information on suspicious activities while driving in vehicles topped by yellow flashing lights. Residents say it gives them an extra layer of security, and Civale brought that home.
CBS11 countered with two interesting reports by newcomer
Nerissa Knight
and veteran
Ginger Allen
.
Knight led the newscast with a story on credit card thieves who were testing their stolen property by making $5 online donations to the campaign of Republican presidential candidate Ron Paul. The candidate's camp since has refunded more than $3,000 in contributions after being apprised that they were made by crooks, Knight said.
She's still prone to an excess of hand-talking and overly urgent voice inflections, but Knight otherwise seems like a worthy addition to CBS11 news. For tips on toning down she might consult Allen, who mostly seems to have kicked those same histrionic habits.
Allen reported on faultily made patio tables whose tempered glass tops are prone to "exploding" into thousands of pieces. The company making them, JRA Furniture, is now defunct. But some of the tables are still being sold at area Home Depots and K Marts. Fair warning: barbecue doesn't go well with glass shards.
On the sports front, CBS11's
Steve Dennis
had an inventively packaged piece on Cowboy receiver Terrell Owens' latter day "cuddly, positive" demeanor while Fox4's addictive "Greatest Cowboy" feature named Hall of Fame offensive lineman Rayfield Wright as No. 8 on the list.
NBC5 led Wednesday's late nighter with a reprise of an earlier car chase that Chopper 5's
Ken Arnold
termed "exciting."
Fox4 began its 9 p.m. newscast with reporter
Jason Overstreet
's piece on a woman who's now on life support after nearly drowning in an Iron Man charity event. Perhaps the station didn't notice that CBS11's
Brooke Richie
had the same tragic story the night before on her station's 10 p.m. program.
And oh yeah, NBC5 kept its Wal-Mart streak intact, mentioning the giant-sized retailer for the sixth consecutive weeknight newscast.
This time it was a stretch. The Peacock's
Kristi Nelson
stood in a Target parking lot for a change of pace while reporting on China-made Aqua Dots toy beads that can "act like a date rape drug" if ingested. (Rival stations also reported the recall of this latest dangerous kids' toy.)
"We did find Aqua Dots on the shelves here at Target," Nelson told anchor
Mike Snyder
. "But the store would not sell them. We bought these at a Wal-Mart across the street."
Way to go, Wal-Mart. NBC5's equivalent of Joe DiMaggio's 56-game hitting feat is still alive.