Death rattle: Down goes Romo, and with him Cowboys' season
10/25/10 11:53 PM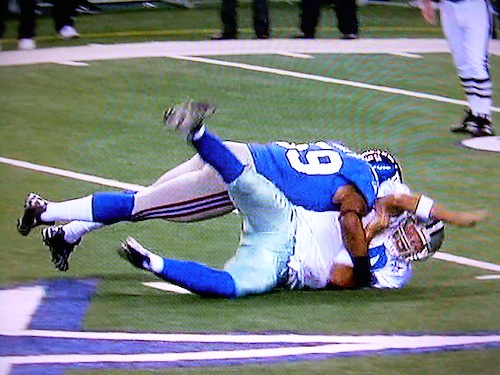 Tony Romo takes a clavicle-breaking hit in 2nd quarter. Dallas led 10-7 at the time and upped it to 20-7 before the defense rested and the Giants scored 31 straight points. Photos: Ed Bark
By ED BARK
Lack of a quality backup quarterback and a paper doll defense when it mattered left the Dallas Cowboys in probable fatal disrepair on ESPN's national
Monday Night Football
stage.
The 41-35 final score reflects the New York Giants' recurring attempts to hand Dallas the game with five turnovers. Otherwise they moved the ball virtually at will after quarterback Tony Romo suffered a broken left clavicle early in the second quarter. Dallas led 10-7 at the time, and Romo's last play of the game, a completed pass to the Giants' 29, set up a field goal. The Cowboys' lead became 20-7 after an electrifying 93-yard punt return by rookie wide receiver Dez Bryant.
A stout defense and even marginal competence by shopworn 38-year-old Jon Kitna should have been enough to gut out a home win that would have taken Dallas from 1-4 to a redeemable 2-4 in an NFC with no breakout dominant team. But the Giants instead scored 31 straight points to take a 38-20 lead, prompting some in the Cowboys' Stadium crowd to chant "Let's go, Rangers."
"Where's the juice on this Cowboys' defense?" commentator Ron Jaworski wanted to know.
"The Cowboys are being embarrassed," said play-by-play guy Mike Tirico.
They left the game a bit less red-faced after scoring two late touchdowns. Bryant for one never gave up and Kitna managed to complete a few downfield passes after finally settling in a bit. No matter, really. Kitna is a statue on the order of Drew Bledsoe, who spent his last days as a Cowboys QB scraping himself off the turf before finally yielding to Romo under the Bill Parcells regime. There's no reason to think that defenses won't find Kitna to be another easy stationary target while the Cowboys' defense continues to unravel.
Giants' head coach Tom Coughlin won't be happy with the overall sloppy nature of his team's win. The victors had a smash-mouth running game and their receivers toyed with the poor-tackling Dallas secondary. But Coughlin will be like the drill sergeant therapist in the Geico commercial, telling his team that instead of taking some time off during bye week, "Maybe we should chug on over to namby pamby land where maybe we can find some self-confidence for you, ya jackwagons!"
Pliable Cowboys head coach Wade Phillips of course will be a polar opposite. "Shucks, we tried hard, and Dez made a real purdy run."
The overall explosiveness of Bryant makes one wonder whether 1-5 Dallas might consider a wildcat offense with him at the throttle on occasion. Bryant already has shown that he can be brittle and prone to injury. But the guy looks like the second coming of Deion Sanders in an open field.
Owner Jerry Jones, who sat grim-faced in his luxury box with his two sons, no doubt made America root even harder against "America's Team" with his manifesto a few minutes before kickoff. Below is how he appeared and what he said after an announcer intoned, "A message from Jerry Jones."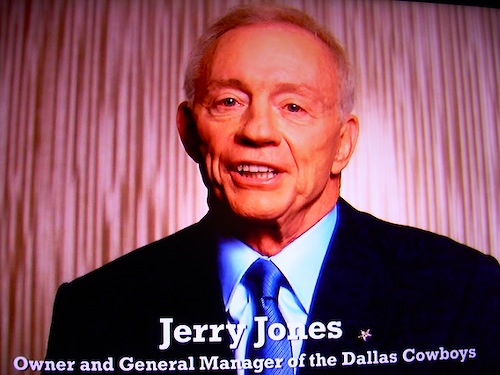 "As you know, we do things bigger down here in Texas. We can't help it. Pride runs deep in the heart of every Texan.
"But we also know that bigger isn't always better. And so far this season, we just haven't gotten it done. So it's time to focus on the little things, the details that can mean the difference between victory and defeat. And that's just what we're gonna do.
"In the biggest stadium, before the loudest crowd, the Cowboys carry on a legacy of players who were larger than life. Another battle between bitter rivals. All of this on Monday night. It doesn't get any bigger than that."
Ya jackwagon!