Staying alive: a Judy Jordan update
03/03/09 10:12 AM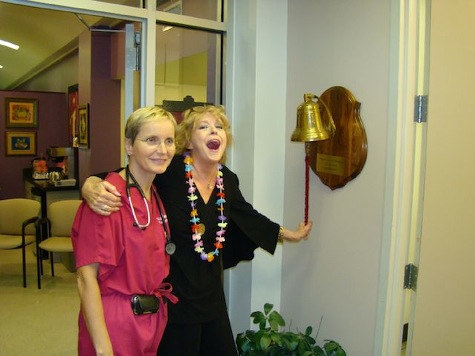 Judy Jordan at her "No-More-Chemo" party with Dr. Sasha Vulkjia
By ED BARK
Former KDFW-TV (Channel 4) anchor Judy Jordan is doing far better than initially feared after being diagnosed with colon cancer last year.
"Rumors of my imminent demise are somewhat exaggerated, or a tad premature," Jordan said in an email sent Monday to unclebarky.com.
Jordan, who became D-FW's first woman news anchor in 1966 while at KDFW-TV (Channel 4), says she "emerged from my dance with cancer last October slightly used but in better-than-good condition. I may well be the luckiest of all the lucky people with survivor keychains.
"I wouldn't wish cancer on anybody, but the whole whammo experience was somehow enriching. According to my latest test, if some stealth tumor is poised for attack it is imperceptible to the most modern diagnostic devices around."
Jordan remained at Channel 4 until 1980; she also recently anchored at Tyler's KYXT-TV from 2005-'07.