Losing Cowboys again come up winners on NBC's Sunday Night Football
04/19/11 06:50 PM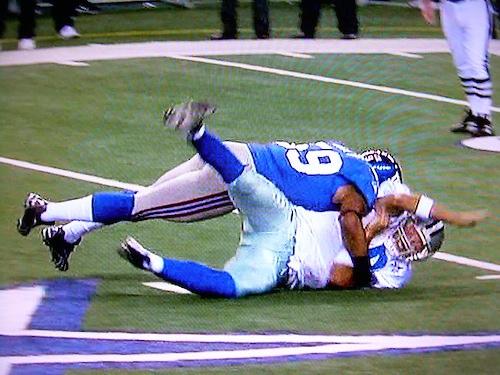 By ED BARK
Despite last season's implosion, the Dallas Cowboys again will be a featured attraction on NBC's
Sunday Night Football
. Provided there's a season.
NBC announced its 2011 schedule Tuesday with high hopes that "the most powerful content in the entire sports and entertainment universe" will resolve its bitter labor dispute any day now. And the Cowboys again get the maximum three games, including their scheduled Sept. 11th season opener on the road against the New York Jets.
The Peacock also has penciled in the Oct. 30th game at Philadelphia and the Dec. 11th home game against the New York Giants. Love to love 'em, or love to hate 'em, the Cowboys remain a ratings magnet nationwide. Which is why NBC still wants 'em after a 6-10 record last season.
Unclebarky's native state, defending Super Bowl champion Green Bay Packers also are getting three
SNF
games. In fact they'll be bookending NBC's regular season schedule, beginning with a Thursday night, Sept. 8th "NFL Kickoff" game against the New Orleans Saints and ending with a not-so-holy Christmas night encounter with the arch rival Chicago Bears.
Several times with winning records last season are getting just two NBC games. They include the Bears, Atlanta Falcons and New Orleans Saints. The Tampa Bay Buccaneers, who went 10-6, aren't scheduled for any
SNF
games.
The Cowboys are the only losing team to get the maximum three games. In fact, the only other losing team to get even one game is the 6-10 Minnesota Vikings, who are scheduled against the Bears on Oct. 16th.
NBC also will have the next Super Bowl.