New "DFW Nonstop" digital channel spreads the NBC5 brand with array of lifestyles/news programming and a signature 6:30 p.m. newscast anchored by Jane McGarry
05/05/11 10:13 AM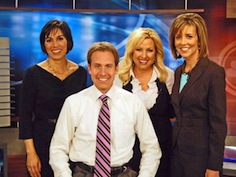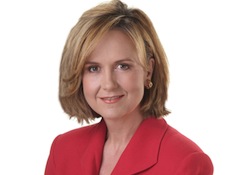 NBC5's morning team and anchor Jane McGarry will be featured players on the new, 24-hour DFW Nonstop, a digital channel also available on major area cable systems. Photos from nbcdfw.com
By ED BARK
NBC5 hopes to use its 5.2 digital channel in a big way with the launch of DFW Nonstop, a 24-hour local news and lifestyle network whose centerpiece will be a half-hour 6:30 p.m.
Nonstop Nightly
newscast helmed by veteran anchor Jane McGarry.
Details were released Thursday by NBC5 after the bugs were worked out during a quiet Wednesday, May 4th launch. The NBC5 initiative is also
being replicated
by Peacock stations in Miami, Los Angeles, San Francisco and San Diego. It's all part of a major effort by NBC Universal to spread the wings of its owned-and-operated stations.
McGarry, who will continue to co-anchor NBC5's 5 p.m. weekday newscasts, describes
Nonstop Nightly
as "smart, innovative journalism at a time when the way in which viewers collect news and information is changing . . . How often are you given the tools and people to help develop an entirely new half-hour of television news?" Her newscast will be competing with syndicated entertainment magazine shows on Fox4, NBC5 and WFAA8, and
Wheel of Fortune
on CBS11.
In the same publicity release, NBC5 vice president and news director Susan Tully says that "North Texas is full of important stories and colorful characters. DFW Nonstop is a great place to take a look into the issues and people who make this part of Texas unique."
NBC5 president and general manager Tom Ehlmann says the station is "committed to producing even more local programming," with DFW Nonstop being a "first for the marketplace."
The channel will be available to over-the-air viewers on existing digital channel 5.2, but also will have a wide cable presence. Among the systems carrying it are Charter (Ch. 105); Time Warner (Ch. 365); Verizon Fios (Ch. 460) and Grande Communications (Ch. 280).
Other locally produced programs on DFW Nonstop include:
***
DFW Today
, which will air from 7 to 10 a.m. Monday through Friday. The program offers highlights from that day's NBC5 early morning program, plus live weather and traffic updates. The primary anchors are the existing morning team of Deborah Ferguson, Scott Friedman, Jennifer Lopez, Tammy Dombeck and Samantha Davies.
***
The Rundown
(1 to 1:30 p.m. weekdays and repeated from 3 to 3:30 p.m.) is billed as a "non-traditional look at the news of the day," including "commentary with an engaging and creative edge." Ferguson and Friedman host, with an assist from "many other NBC5 reporters."
***
Scene DFW
(Mondays from 7:30 to 8 p.m.) intends to "keep viewers in the know from fashion trends to the best places to play." No hosts are named.
***
Foodies DFW
(7 to 7:30 p.m. Mondays) zooms in on "the heart and flavor of DFW." No hosts are named.
A variety of other non-locally produced lifestyle programs also will be on the menu, including
Open House, Talk Stoop, 1st Look, Thread NY
and
1st Look
.