Local Nielsen ratings snapshot (Fri.-Sun., Oct. 14-16) -- World Series bound Rangers vs. going nowhere Cowboys
10/17/11 11:19 AM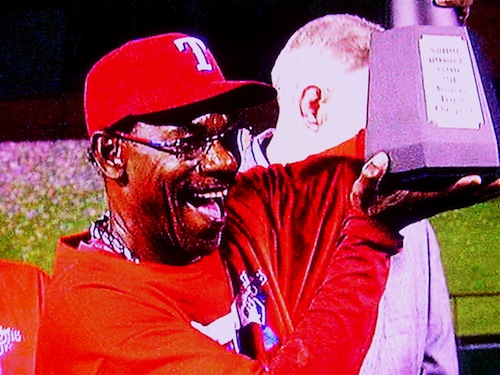 Rangers manager Ron Washington hoists another one. Photo: Ed Bark
By ED BARK
Well, it was pretty close. But you know how these things go. So no, the Texas Rangers' Saturday night clinching of the ALCS did not outdraw the Dallas Cowboys' latest Sunday clunker.
Fox had both games, giving Dallas-based Fox4 a weekend windfall that might have tempted rival stations to simply close shop and save on electricity.
The Cowboys' 20-16 loss at New England, in which they again couldn't hold a late-game lead, ran from 3:15 to 6:21 p.m. Sunday. It averaged 1,422,561 D-FW viewers with a peak crowd of 1,686,751 from 5:45 to 6 p.m.
The Rangers' 15-5 pummeling of Detroit -- 7:08 to 10:40 p.m. -- averaged 1,212,564 viewers with a peak crowd of 1,517,398 for the closing minutes. It was the first of this fall's post-season games to average more than one million viewers.
The Cowboys also outdrew the Rangers among advertiser-coveted 18-to-49-year-olds. But the peak ratings were closer in this key demographic, with the Cowboys reaching a high point of 765,350 viewers while the Rangers hung tough with 704,506.
Saturday's second most-watched sports attraction, Oklahoma State's afternoon whipping of Texas on ABC, averaged 338,705 total viewers. Sunday's runner-up to the Cowboys was Fox's preceding Eagles win over the Redskins, which had 440,317 viewers.
Sunday's re-scheduled two-hour edition of Fox's
The X Factor
drew 311,609 viewers in finishing a close overall second in prime-time to NBC's Bears-Vikings game (331,931 viewers).
Friday's prime-time Nielsens again were paced by CBS'
Blue Bloods
, which outdrew all programming day or night with 318,383 total viewers.
In Friday's local news derby results, CBS11 won comfortably at 10 p.m. in total viewers but NBC5 had a sizable win with 25-to-54-year-olds, the main advertiser target audience for news programming.
Fox4 swept both the 6 a.m. and 5 p.m. competitions while adding a 6 p.m. gold in the 25-to-54 demographic. WFAA8 was tops at 6 p.m. in total viewers.