Cut to the chase -- television always does
10/09/09 01:16 PM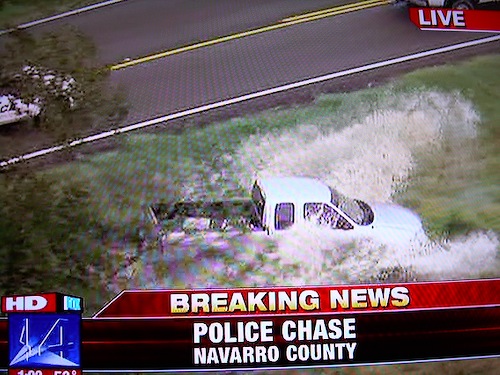 Fugitive motorist finally splashes to a stop on live TV. Photo: Ed Bark
By ED BARK
Another idiot led police on a prolonged car chase in late morning/early afternoon hours Friday.
All four of D-FW's major TV news providers -- Fox4, NBC5, WFAA8 and CBS11 -- went along for the ride, which had a 1:02 p.m. grand finale in Navarro County. Everyone then quickly went back to their soap operas and court shows. Sorry for interrupting 'em, folks. But we just can't keep ourselves from performing a public service.
Yeah, they'll all tell you that live coverage of this sort aids in keeping the public from getting in harm's way. Never mind that you're presumably watching TV within relatively safe surroundings during these preachments.
In truth, this is what passes for "good television" in our rubbernecking age. And once a station joins the chase, it's hard to drop out before police finally throw the culprit to the ground.
WFAA8 briefly tried to escape, shifting to ABC's
One Life to Live
at 1 p.m. But it quickly scurried back to the action as the fugitive was bumped off the road to a water-logged stopping point. By that time, one of Fox4's play-by-play analysts already had compared the motorist to a running back looking for a hole.
The dummy inside the pickup truck allegedly had assaulted a police officer earlier. But it wouldn't have mattered if he'd only stolen a kid's lollipop. This is the easiest form of semi-suspenseful show-and-tell live "news" coverage, even if it only encourages other imbeciles to lead police on merry chases in pursuit of being teevee stars. Look, momma, that's me on them smokin' rims. I done did good, huh?
At the national level, both HLN (which used to be CNN Headline News) and Fox News Channel also joined in for portions of the chase. Those of us who decry all of this are probably only wasting our verbiage. Because it's only a matter of time until the next meandering, bump 'n' run car chase commences. And to borrow CBS11's slogan, that's "coverage you can count on."