Oprah's long countdown to a sign-off is going to be just fine with WFAA8
11/20/09 07:51 AM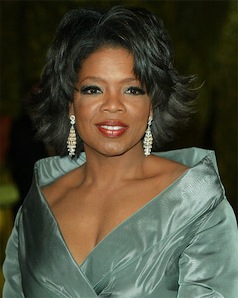 By ED BARK
Oprah Winfrey's long goodbye -- and eventual abandonment of her daytime talk show -- looks like the best of both worlds for Dallas-based WFAA8.
First of all, she's not going anywhere until Sept. 9, 2011. And as that day grows nearer, interest likely will only heighten in
The Oprah Winfrey Show
, which launched on Sept. 8, 1986 and has long been anchored at 4 p.m. on WFAA8. Any audience boosts can only help the station's struggling 5 p.m. newscasts, which have faded in the ratings during Winfrey's descent from juggernaut to loss-leader.
Simply put, WFAA8 is paying an arm, a leg and a torso for her show, which paid off very handsomely in the first 20 years or so. Winfrey used to decimate everything in her path. And her lead-in, combined for many years with a 6:30 p.m.
Wheel of Fortune
lead-out, helped WFAA8's early evening newscasts to record huge margins of victory over those on Fox4, NBC5 and CBS11.
In recent times, though, Winfrey's D-FW ratings have dipped to unimagined depths. On Wednesday, the day before her Harpo Productions announced a quit date,
Oprah
drew just 67,863 viewers in running third behind Fox4's double dip of
Judge Judy
(74,649 and 95,008 viewers) and NBC's homegrown
First At Four
newscast (87,988 viewers).
At the prices WFAA8 is paying, that's a doubleheader defeat. Now the station can begin planning a future without Oprah, which could include its own 4 p.m. local newscast if the station chooses. Whatever winds up there will be far cheaper.
Winfrey will elaborate on her decision during Friday's show, which should be a widely watched tear-fest. Her destination beyond
Oprah
is cable's yet to be launched but previously announced OWN: The Oprah Winfrey Network. She'll help develop programming for OWN and might even have her own show. But Harpo says it definitely will not be an extension of her syndicated program, which will have 25 seasons in the bank by the time she calls it quits.
The move away from free TV is both a sign of the times and a considerable risk. Cable's dual revenue streams -- from both advertisers and subscriber fees -- are increasingly attractive in times when the longstanding broadcast model is viewed by some as an outmoded Model T.
Still, Winfrey's overall omnipresence is bound to take a big hit. Howard Stern may have made a financial killing by moving to Sirius Radio. But his audience and visibility are fractions of what they once were.
For now, though, Sept. 9, 2011 is a long way off. Excuse WFAA8 executives if they count the days and privately wish they could fast-forward them. Everyone sucked up to Winfrey -- save for sports anchor Dale Hansen -- during her
recent co-anchoring of a 5 p.m. newscast
after a visit to the Texas State Fair. In truth, though, WFAA8 almost assuredly will be better off without her. Thanks for the memories -- but you can't take those to the bank.