NBC5 anchor/reporter Cory Smith now knows where he's going; Fox4's ill-considered tweet
09/17/18 11:52 AM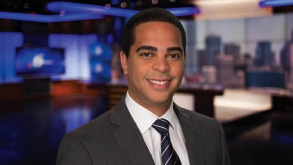 By ED BARK
@unclebarkycom on Twitter
NBC5's Cory Smith, who's anchored on weekends and reported three days a week, will be leaving the station earlier than previously announced to join the staff of WRC-TV in Washington, D.C.
"It's bittersweet," he told unclebarky.com. "This job has literally been a dream come true, so I'm sad to leave my newsroom family here in DFW, but I'm happy to be staying within the NBC family. Both Fort Worth's NBC5 and WRC are owned and operated by NBC.
Smith's impending departure from NBC5 was
previously reported in early July
. But at that time he wasn't sure where he'd be going next and planned to stay with NBC5 until his contract with the station expired in December. But his first day at WRC will be on Oct. 1st, Smith said, so it's a little sooner than I thought it would be."
NBC5's former news director Mark Ginther, said at the time that Smith would be leaving for "family reasons." His replacement, Laura Harris from ABC affiliate WFTS-TV in Tampa Bay, FL, was named in tandem with the news that Smith would be leaving. He joined NBC5 in December 2015.
Smith, a native of Oak Cliff (where his parents still reside), said the "family reasons boil down to this: My wife is from England, so moving to the East Coast splits the geographic difference between the two sets of in-laws. If we have kids, the grandparents will both have to travel the same distance to see them . . . My contract was up at the same time my wife is finishing her PhD, so this allowed us to pick the next place we live together instead of her making the sacrifice and following me around."
The Press Club of Dallas also had named Smith as the organization's incoming president. But that position now will go to Paul Wahlstrom, who also was president from 2011 to 2012.
***
Dallas-based Fox4 has taken some heat, both locally and nationally, for an ill-considered tweet that was posted on Sept. 13th, and remains up as of this writing.
"DEVELOPING," it read on the official Fox4 news twitter feed. "Marijuana found in Botham Jean's apartment after deadly shooting." The reference is to the young man who was shot and killed in his apartment by Dallas police officer Amber Guyger. Jean is black and the officer is white.
The Fox4 tweet linked to a far more complete story headlined, "Lawyers 'disgusted' by release of search warrant showing marijuana found in Botham Jean's apartment." But the tweet implied, to some, that Botham Jean somehow deserved his fate.
On CNN's Sunday morning
Reliable Sources
program, host Brian Stelter termed it a "terrible tweet." CNN's senior media reporter, Oliver Darcy, joined him at the show's anchor desk to concur with that assessment. Darcy said he phoned Fox4 and was told that the station's news director, Robin Whitmeyer, would get back to him.
That never happened, he said, which should come as no surprise. As unclebarky.com has reported a number of times, all inquiries about Fox4 are directed to the station's corporate spokespersons in New York City. And the stated policy coming from that distant venue is that Fox4 does not respond to questions about either editorial decision-making or internal personnel matters, other than to announce new hirings or acknowledge without further comment that someone has left the station.
Although still leaving the offending tweet in place, Fox4 later posted another tweet reading, "Assassinate the character after they assassinate his person." Lawyers for Botham Jean's family say they are disgusted by the search warrant issued after Jean's shooting by (sic) the hands of a Dallas police officer." Both tweets link to the same story.
Neither tweet has a Fox4 staffer's name attached. But sources tell unclebarky.com that it was posted by a Hispanic member of the station's social media team. It's relevant to note this in light of the racially charged atmosphere involving the shooting of a black man by a white police officer.
A group of protestors supporting Botham Jean gathered outside Fox4's downtown Dallas offices Friday night to demand justice and fair coverage. They also assembled at two other media venues, TEGNA8 and
The Dallas Morning News
.
Media companies for the most part remain notoriously non-transparent when questioned about their own decisions. Fox4 is no different than many, which in this particular case is very bad form.
Email comments or questions to:
unclebarky@verizon.net