Cuban on hand for Colbert Report finale, but screened out of his closeup
12/19/14 09:45 AM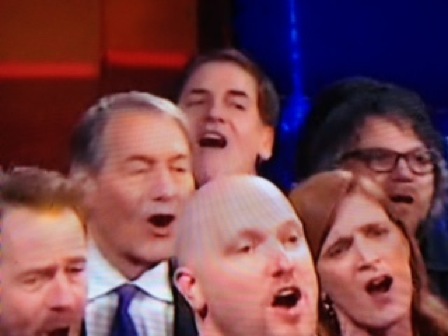 Zeroing in on Mark Cuban at The Colbert Report finale. Photo: Ed Bark
By ED BARK
@unclebarkycom on Twitter
Count Mark Cuban among the mega-gaggle of celebrities on hand for the amazing closing sing-off on Thursday night's finale of
The Colbert Report
.
But most viewers likely missed him. Accompanied on piano by Randy Newman, the celebs sang "We'll Meet Again" in sequential groups of four to six. But Cuban's close-up was inadvertently blocked by Charlie Rose. Cuban stood to his left on home screens, but the cameraman only went as far as Rose. So in effect Cuban was screened out -- basketball style. Even on your friendly content provider's 60-inch HD screen.
The Dallas Mavericks owner later could be seen from afar in the back row of a bigger group shot (see above), with Rose and Bryan Cranston standing close-by. But his visibility lasted for only for a second or two as the camera panned the entire stage.
"Bumped. Bummer," Cuban said via email Friday when informed of this.
I watched the finale as it happened, but also would have missed Cuban had fellow participant Keith Olbermann not tweeted, "@MarkCuban finalized Rondo deal in green room sitting w/Waterston, Daniels, me + dismaying UN Amb. Samantha Powell."
That would be Sam Waterston and Jeff Daniels, whose
The Newsroom
recently had its HBO finale. And the deal was for Boston Celtics point guard Rajon Rondo, who now is a Maverick.
Cuban clarified and elaborated in his email message to unclebarky.com: "I didn't finalize it. The trade was finalized. In the NBA, a deal isn't done until it's done. So I was on pins and needles waiting on the trade call to finish -- all in the green room. Surrounded by these huge celebs and I was head down and then people started hearing about the trade and asking me."
It may have been the most eclectic, out-sized group of celebs in TV history. So much so hat the gathering reminded me of The Beatles'
Sgt. Pepper's Lonely Hearts Club Band
cover, where the images ranged from Marilyn Monroe to Bob Dylan to Oscar Wilde.
In addition to Cuban and the others mentioned above, here's just a partial list of those on hand in
The Colbert Report
studio: Willie Nelson, Henry Kissinger, Katie Couric, Ken Burns, Neil deGrasse Tyson, Barry Manilow, George Lucas, Cyndi Lauper, Tim Meadows, Alan Alda, Patrick Stewart, Bob Costas, Christiane Amanpour, James Franco, Mike Huckabee, Gloria Steinem, Michael Stipe, Tom Brokaw, Ariana Huffington, Andrew Young, Mandy Patinkin, Big Bird, Kareem Abdul Jabbar, Ric Ocasek and Doris Kearns Goodwin.
And here's the video itself. Catch Cuban if you can.
Email comments or questions to:
unclebarky@verizon.net