Snow 'n' tell: the sequel
02/11/10 05:29 PM
Marianne Martinez and friend on CBS11's 5 p.m. news. Photos: Ed Bark
By ED BARK
And it kept on fallin', prompting D-FW's major TV news providers to provide viewers with a blizzard of extended coverage Thursday afternoon.
WFAA8 knocked off
The Oprah Winfrey Show
and Fox4 waylaid
Judge Judy
rather than let rivals NBC5 and CBS11 get a jump with their regularly scheduled 4 p.m. newscasts. The mounting snow and impending ice then blanketed all else -- and rightly so.
"It has been more than 30 years since we've seen a snow storm like this," Fox4 anchor Clarice Tinsley said at the start of the station's 5 p.m. news. Meteorologist Dan Henry then zeroed in.
"This is one of those once in a generation type of snow falls," he told viewers. "And in fact, it's the heaviest snow we have seen going back 32 years."
Some reporters built their own snowmen. Others, such as WFAA8's Brett Shipp, found something to investigate. The station touted his exclusive report of a weather-induced brawl on the Skyline High School campus after some snowball fights got out of hand. WFAA8 had long-distance video of punches being thrown amid a throng of unsupervised students on a day when a number of teachers stayed at home.
Shipp then capped the story by saying, "The only people around to stop that fight was our crew. And we had several gestures toward us that were unfriendly as we approached that crowd of students who were out of control."
WFAA8 also quickly mounted a promotion touting its earlier coverage Thursday of this very uncommon weather "event."
As previously noted, stations love this stuff. Bad weather newscasts, especially of this magnitude, attract many more viewers than usual. It's the one story that still plays out best on television screens, where reporter garb and anchor overstatements often spice up what otherwise can be some very useful and informative coverage.
"The boss won't let me out of the building," WFAA8 weatherman Pete Delkus noted after anchor Shelly Slater encouraged him to get outside and see a snowman or two. "I'm an indentured servant at this point."
Over on NBC5, reporter Ken Kalthoff acted as though most D-FW residents were sunbelt yahoos. Up north, he said, "they have a thing called snow plows." Really?!?!?!
Here's another picture album from the day's activities.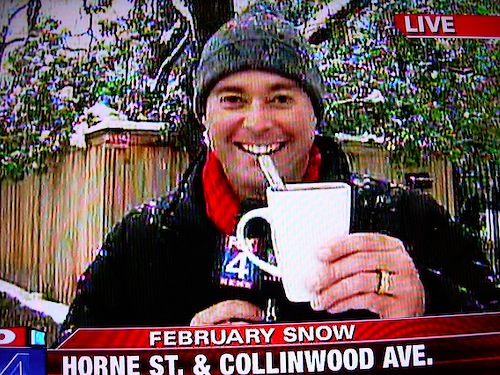 Fox4's Brandon Todd happily hoisted a cup of hot chocolate.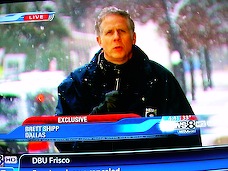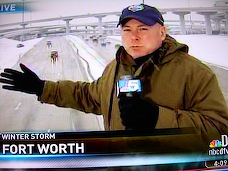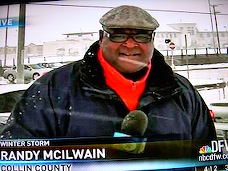 Boys of winter. Clockwise from bottom left: NBC5's Randy McIlwain; WFAA8's Brett Shipp; NBC5's Scott Gordon and Fox4's Fil Alvarado.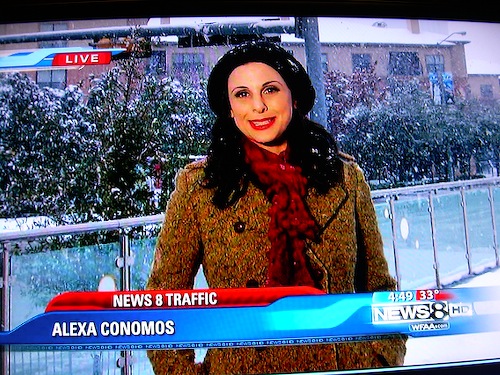 Pretty as a picture and in full makeup, too. WFAA8's Alexa Conomos.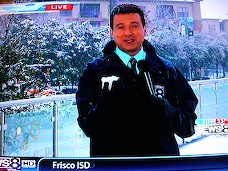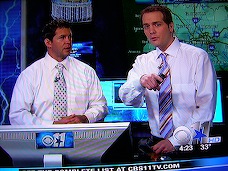 Talking up a storm indoors and out: Forecasters Steve McCauley (WFAA8) and CBS11's shirtsleeved duo of Garry Seith, Larry Mowry.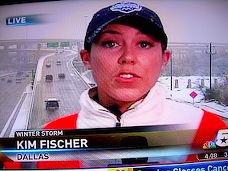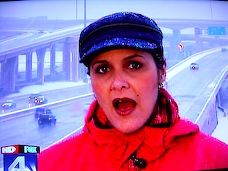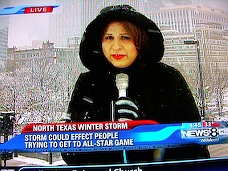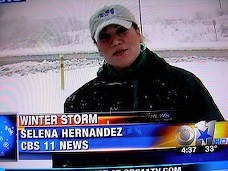 Let it snow. Clockwise from bottom left: WFAA8's Rebecca Lopez; NBC5's Kim Fischer; Fox4's Emily Lopez; CBS11's Selena Hernandez.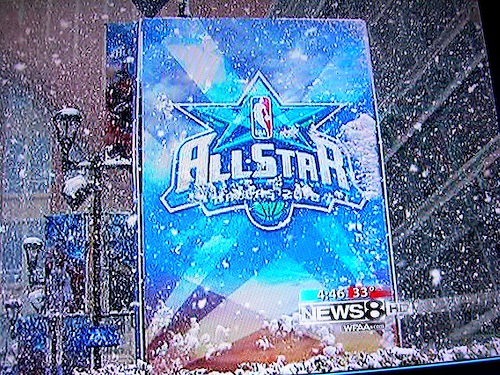 Hoops anybody? Ready or not, here it comes this weekend.