This just in: You're fired. Period. End of story
02/06/09 11:28 AM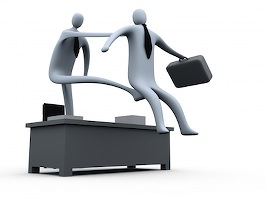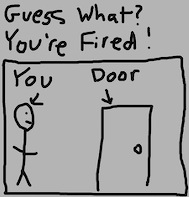 By ED BARK
Oh, the humanity.
It's funny/sad how TV news operations -- both locally and nationally -- hail the arrivals of newcomers while dumping unwanted anchors and reporters with nary a word on their behalf. Garbage gets more of a sendoff.
Take Dallas-based KDAF-TV (Ch. 33), for instance. Recently deposed anchors Terri Chappell and Tom Crespo were by no means the greatest TV news personalities ever to hit the D-FW market. At best they were capable custodians of a 9 p.m. nightly newscast with very limited resources compared to the bigger, brighter shows on Fox4, NBC5, WFAA8 and CBS11.
Still, Chappell and Crespo endured for a decade on a one-hour program with lower overheads than limbo competitions. Nobody guaranteed them lifetime employment. And both knew they served at the pleasure of the latest news director. Changes are expected when a new guy takes charge, as David Duitch did last summer. All bosses aren't bad and all anchors aren't saints.
What invariably happens, though, is what happened to Chappell and Crespo. Both simply disappeared from the station's web site "News Team." Attempts to verify their departures were then met with stone cold silence at management's end. Not even a "No comment" could be mustered.
Duitch didn't return phone calls because, of course, he had nothing to say. Crespo vanished from view less than 24 hours before his replacement, Walt Maciborski, was announced in glowing terms via a station press release Thursday. Chappell's successor, Amanda Salinas, was anointed on the same day.
Both Crespo and Chappell got word of their evictions on what also became their last days of work at "The 33." On-air goodbyes are out of the question under such circumstances. But couldn't management at least have said something on the order of: "Tom (Terri) were valued contributors for many years here at 'The 33.' We felt the need to make some changes in our newscast as we head in a new direction. But at the same time, we wish Tom (Terri) well in any and all of their future endeavors."
Instead viewers are left to wonder what happened while your friendly content contributor at unclebarky.com tries in vain to get any kind of response from management. Frankly, it's a pretty gutless way to treat people. But you know how TV stations can be about "personnel matters." Today's valued, trusted member of the (fill-in-the-blank) "family," who's "looking out for you," is suddenly a non-person when the ax falls.
Meanwhile, the new hires are depicted as Jesuses riding into view on Palm Sunday. Let the hosannas begin in press releases hailing their arrivals later this month.
"It's a pleasure to have someone with Walt's diverse background join The 33 news team as co-anchor," Duitch says of Maciborski, who's blowing in from WFTS-TV in Tampa, Fla. "He is equally strong as a reporter and anchor, and already has a list of great stories he wants to share with our viewers."
Lucky us.
Salinas used to co-host WFAA8's now defunct
La Vida
program while Duitch was still news director at that station. She also anchored on occasion at TXCN before eventually landing at WPBF-TV in West Palm Beach, Fla.
"We are thrilled to have someone with Amanda's background join The 33 news team," Duitch enthused. "Her roots are in Texas and her experience covering stories from major weather events to historic presidential elections will be a benefit for our viewers."
Be still my heart.
Look, every newcomer deserves a chance, and Salinas and Maciborski will be treated fairly in these spaces.
That said, Crespo and Chappell should have been let go with at least a bare shred of dignity. Even their replacements would agree with that. Because someday . . .