Emmy-palooza: Belo8 makes the biggest night of it
10/29/07 05:55 AM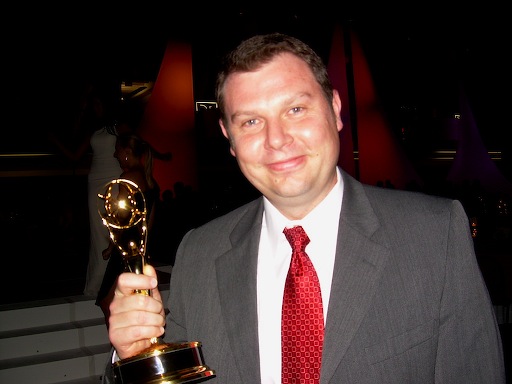 Belo8 news director Mike Valentine has a hold on Texas' top Emmy.
Photos: Ed Bark
By ED BARK
Late night pizza and lottery tickets were served and multiple models seemingly had walked at least a mile in their high-heeled shoes. At last it was time to punctuate the
fifth annual Lone Star Emmy Awards
with The Big One.
Not that the suspense was killing anyone. Belo8, time and again a winner during the three-hour ceremony, took the last of 113 awards for "Overall Station Excellence." The Dallas-based ABC affiliate, and Belo-owned KHOU-TV in Houston, won the lion's share of gold during Saturday night's endurance contest at Dallas Trade Mart.
In the climactic showdown, a panel of out-of-state judges elevated Belo8 among fellow nominees KHOU, Fox4, NBC5 and WOAI-TV of San Antonio. Lone Star Emmy Chapter president Kevin Cokely, who anchors and reports for NBC5, gamely presented the hardware before many an attendee hit the restroom. It was that kind of night -- elongated but for the most part efficient. Winners were strongly encouraged to limit their acceptance speeches to 15 seconds, and a majority stayed within that ballpark. Still, five o'clock shadows eventually were overtaken by 10 p.m. stubble during an event that kicked off with a 5:30 p.m. cocktail reception and ended as
Saturday Night Live
was starting.
Belo8 seemed to have the largest contingent, and each of its dressed up reporters won at least one Emmy. The role call included Byron Harris, David Schechter, Dan Ronan, Jim Douglas and Joe Trahan. The station's George Riba also came up a winner, but he was anchoring back at the mothership.
NBC5's Newy Scruggs and Fox4's Becky Oliver likewise won Emmys but weren't there to collect them. D-FW's biggest news names -- the stations' featured anchors -- also were nowhere to be seen. Semi-retired Belo8 weatherman Troy Dungan was a presenter, though, as was longtime NBC5 entertainment reporter Bobbie Wygant. And besides the Belo8 brigade, NBC5's Ken Kalthoff and Brian Curtis, and CBS11's J.D. Miles accepted their reporting Emmys live and in person.
Here's more of how it looked: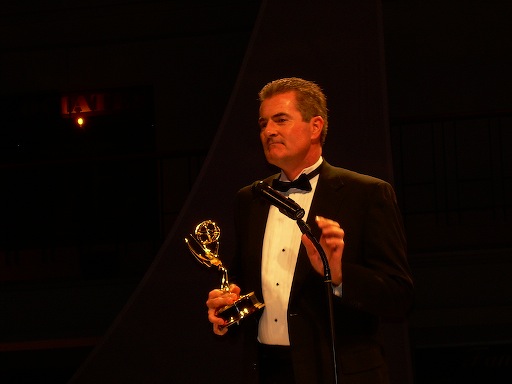 NBC5 veteran Ken Kalthoff takes one for the team.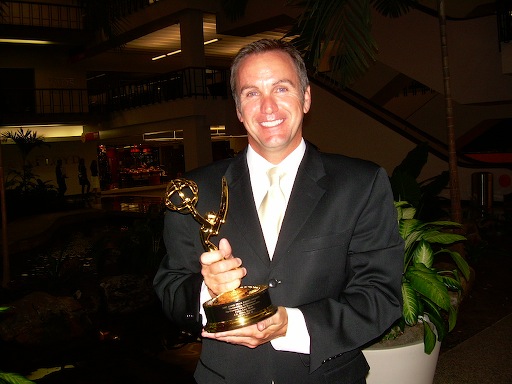 CBS11 reporter J.D. Miles is all smiles with his first Emmy.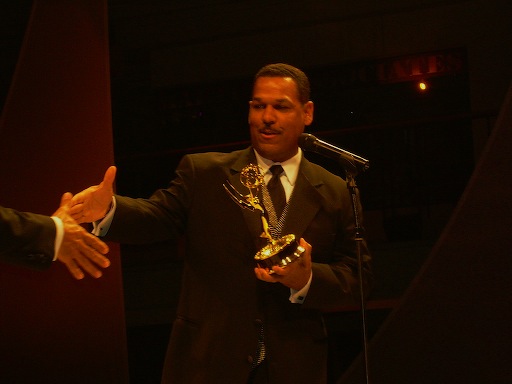 Belo8 sports reporter/anchor Joe Trahan seizes the spotlight.
Still making the scene: NBC5 entertainment reporter Bobbie Wygant.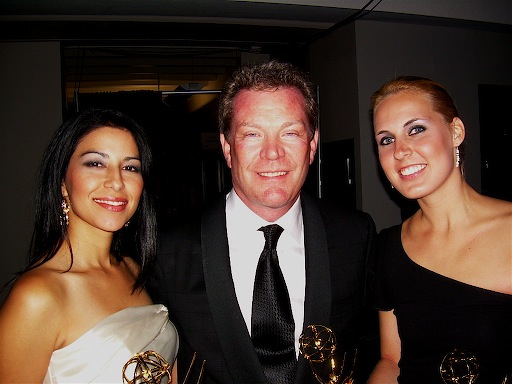 Rank has its privileges: Lone Star prez Kevin Cokely and associates.