Local Nielsen ratings snapshot (Mon., April 9) -- special Yu tube edition
04/10/12 10:24 AM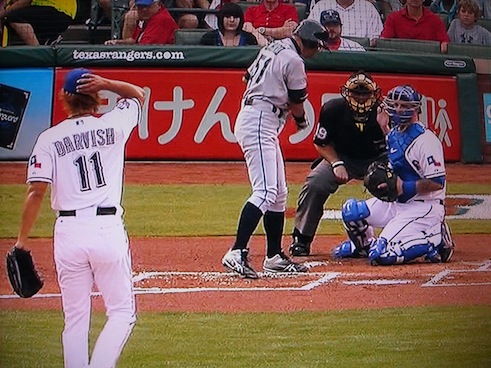 Yu's first pitch to Ichiro is a ball in rough 1st inning. Photo: Ed Bark
By ED BARK
Battling a bevy of broadcast network heavyweights, Yu Darvish's major league debut scored big Monday night despite his near knockout in the 1st inning.
The Texas Rangers' eventual 11-5 win over Seattle, with Darvish getting the victory, beat all competing programming despite stretching until 10:18 p.m.
Rangers-Mariners averaged 399,672 D-FW viewers for the entire game, outdrawing ABC's runner-up
Dancing with the Stars
(352,253 viewers) by a sizable margin. The game peaked at 494,509 viewers between 8:45 and 9 p.m. Yu lasted until 9:14 p.m., pitching five-and-two-thirds innings and leaving with an 8-5 lead after being rocked for four runs in the first inning.
Fox Sports Southwest has to be even happier with how well the game did from 7 to 9 p.m., when Yu and the Rangers faced both
Dancing
and NBC's most popular series,
The Voice
.
But before celebrating, the network needs to get its act together and synchronize watches with the Rangers. Because the all-sports network inexcusably missed Yu's first two pitches, returning from a commercial after he had thrown two balls outside the strike zone to the Mariners' lead-off hitter. You just don't do that on a history-making night like this.
Here are the 7 to 9 p.m. numbers, with the Rangers game also facing new episodes of four popular CBS comedies and Fox's first-run hours of
Bones
and
House
.
Rangers-Mariners
-- 419,994
Dancing with the Stars
-- 352,253
The Voice
-- 250,642
Bones
(7 to 8 p.m.) -- 230,319
Two and a Half Men
(8 to 8:30 p.m.) -- 189,675
Mike & Molly
(8:30 to 9 p.m.) -- 162,578
How I Met Your Mother
(7 to 7:30 p.m.) -- 155,804
2 Broke Girls
(7:30 to 8 p.m.) -- 155,804
House
(8 to 9 p.m.) -- 142,256
Rangers-Mariners won by wider margins from 9 to 10 p.m. and also dominated Monday night's Nielsens among advertiser-craved 18-to-49-year-olds. That's a very impressive sweep and big money in the bank for FSS. Every Yu start could be an event, at least in the early season. And Monday night likely exceeded all expectations, particularly opposite so many network big guns.
In Monday's local news derby, WFAA8 ran the table at 10 p.m. by topping its three news competitors in both total viewers and 25-to-54-year-olds, the favored target audience for news programming.
NBC5 likewise had a big day at 6 a.m., where it ran first in both ratings measurements and by an unusually wide margin among 25-to-54-year-olds.
Fox4 swept the 5 p.m. proceedings and added a 6 p.m. win with 25-to-54-year-olds. WFAA8 had the most total viewers at 6 p.m.