There's no hugging in reporting
12/04/07 02:10 PM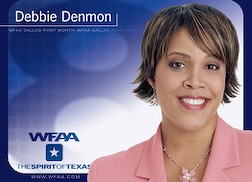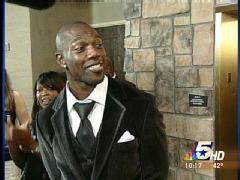 Belo8's Debbie Denmon went out of bounds with Terrell Owens.
By ED BARK
It's a relatively minor infraction in the never-ending annals of on-air reporting.
Still, a pro should know better. And in this case we're not talking about Dallas Cowboys receiver Terrell Owens.
Perhaps you've heard that he threw a big, celebrity-dotted 34th birthday party for himself Monday night in Grapevine. It doubled as a charity event on behalf of the Catch a Dream Foundation, with Owens also asking guests to bring teddy bears to be donated to a children's hospital.
Belo8's bubbly Debbie Denmon joined other local TV reporters in covering the glittering event. She also brandished a big white teddy bear during her live shot on the station's 10 p.m. newscast. But that's not the infraction at issue.
Near the end of the pre-taped portion of her report, Denmon cozied up to Owens, beamed at him and said, "Happy birthday. Can I get a hug?"
He obligingly gave her one while she approvingly patted his back. That's a no-no if you want to be a real reporter, not a sycophantic gladhander. And Denmon has been around long enough to presumably know that.
By the way, she also got Owens' age wrong by two years, a rather fundamental mistake. She said he was 36. Close enough for a carny on the State Fair of Texas midway, but not in this venue.
Mike Devlin, president and general manager of Belo8, said Tuesday that he'd seen the report and would have no public comment on it. That's understandable.
All of the TV reporters covering the event duly noted that Cowboys quarterback Tony Romo arrived without Jessica Simpson, supposedly his latest celebrity girlfriend after earlier sightings with Carrie Underwood and Britney Spears.
"And I did ask a very important question," Denmon told viewers at the end of her piece. "Where was Jessica Simpson? She was a no-show."
NBC5's Meredith Land had the only actual non-comment from Romo himself after observing that the highly eligible QB "dodged questions about a relationship with Jessica Simpson."
"I'm not gonna talk about my personal life tonight," he said, smiling.
CBS11's Jay Gormley was on the scent, too.
"Unless she snuck through the back door, there was no sighting of Jessica Simpson," he reported.
Over on Fox4, Jeff Crilley said that attending Owens' party was "like being at the Oscars."
But colleague Megan Henderson handled the indoor celebrity interviews, Crilley told viewers. He then added, "As far as celebrity gossip goes, Tony Romo came alone."
Epilogue:
Back in his obscure backup quarterback days -- and before he became the NFL's reigning Don Juan -- Romo lusted after a certain area beauty who was already taken. Go
here and scroll down a bit
to see her picture and a vintage unclebarky.com account of Romo's effort to date her.