Local Nielsen ratings snapshot (Wed., Sept. 15) -- big night for reality finales and Jimmy Johnson's hair
09/16/10 09:49 AM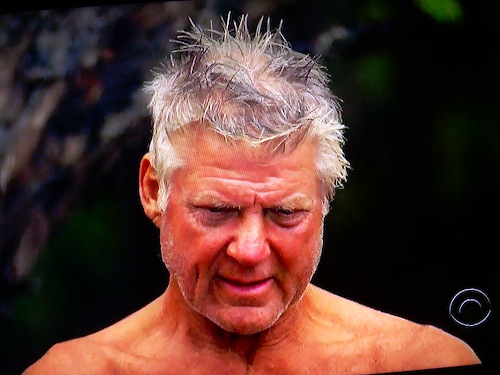 JJ on Survivor. Feel free to write your own caption. Photo: Ed Bark
By ED BARK
Reality competition series had a Super Bowl-esque night Wednesday, with the season finales of
America's Got Talent, Big Brother 12
and
Masterchef
and the premiere of a Jimmy Johnson-infused
Survivor: Nicaragua
.
Let's break down the D-FW audiences in both total viewers and advertiser-coveted 18-to-49-year-olds.
TOTAL VIEWERS
America's Got Talent
(7 to 9 p.m., NBC) -- 420,751
Survivor: Nicaragua
and
Big Brother 12
(7 to 10 p.m., CBS) -- 210,375 apiece
Masterchef
(7 to 9 p.m., Fox) -- 176,444
18-to-49-YEAR-OLDS
Big Brother 12
-- 146,772
America's Got Talent
-- 133,726
Survivor: Nicaragua
-- 97,848
Masterchef
-- 88,063
Johnson survived the opening night cut, but spent part of one night ralphing and wheezing. His vaunted hair took a whipping, too, as you can see in the above frame grab.
Post-
Talent
, the premiere of Jimmy Smits' far-fetched
Outlaw
legal series on NBC won the 9 to 10 p.m. slot in total viewers with a very nice-sized 278,238.
Outlaw
slumped with 18-to-49-year-olds, though, running a distant third with 61,970 viewers behind the second hour of
Big Brother 12
(140,249) and Fox4's local newscast (88,063).
On Fox Sports Southwest, the cruising first-place Texas Rangers beat Detroit for their seventh straight win while 162,871 total viewers watched.
ABC was buried Wednesday night with a wall-to-wall lineup of repeats. Its biggest scorer,
Castle
, had 88,222 viewers.
Local news derby results gave each of the four major competitors at least one win.
NBC5 edged WFAA8 at 10 p.m. in total viewers while Fox4 took the gold with 25-to-54-year-olds, the principal target audience for news programming on most stations.
The Peacock ran the table at 6 a.m. while CBS11 did likewise at 6 p.m. and WFAA8 had a doubleheader win at 5 p.m.