D-FW stations excel with continuous breaking storm coverage
04/03/12 03:10 PM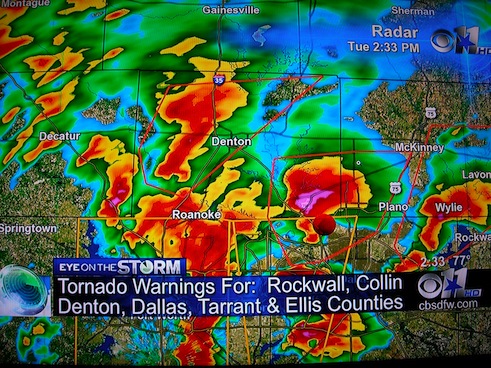 A foreboding weather map on CBS11 Tuesday afternoon. Photos: Ed Bark
By ED BARK
Some of the scariest weather in many a season hit the D-FW area Tuesday afternoon, with severe storms, tornado touchdowns and warnings plentiful here, there and everywhere.
Fox4, NBC5, WFAA8, CBS11, CW33, Telemundo10 and Univision23 all preempted network and syndicated programming for continuous, commercial-free coverage from roughly 1 p.m. throughout the deeply darkened afternoon.
Take it from the dean of D-FW meteorologists, NBC5's David Finfrock, who told viewers shortly before 2:30 p.m., "Those first 30-to-45 minutes were unlike anything I've seen here."
As this is being written, at 3:35 p.m., the rain is pouring down in Garland, but so far without the heavy winds that have caused severe damage in other areas.
Meteorologists repeatedly urged viewers in varying areas to scurry to a "tornado-safe shelter" in their homes, schools or workplaces.
The only signs of levity came when Texas Rangers' catcher Mike Napoli first sent WFAA8 his video of players watching the field tarp whip around at the Ballpark in Arlington. They seemed to be having a good time watching this particular show.
All of the aforementioned stations are to be commended for contributing a genuine public service throughout the day. Weather oftentimes doesn't merit the heavy coverage it receives on local newscasts. But this certainly did, with even CW33 showing its willingness to break in and stay on the air with the big boys. And the station did a good job.
For the record, Rebecca Miller and Bob Goosmann teamed for CW33's coverage. Finfrock and Grant Johnson were NBC5's point men. Dan Henry and Ron Jackson helmed Fox4's coverage. Pete Delkus and Greg Fields led WFAA8's coverage while CBS11 deployed Larry Mowry and Jeff Jamison.
A number of reporters and "storm chasers" also contributed as best they could from the field. And by late afternoon, D-FW was still very much under the weather.