Weeknight co-anchor Kaley O'Kelley leaving CBS11 after three-plus years (updated Friday a.m.)
05/03/18 03:35 PM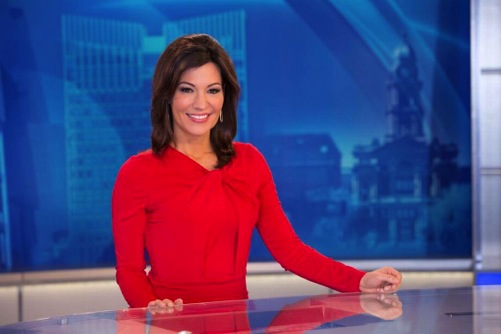 By ED BARK
@unclebarkycom on Twitter
Kaley O'Kelley, co-anchor of CBS11's weeknight newscasts since January 2015, announced Thursday that she's leaving the D-FW station to pursue a "better work/life balance."
She announced her decision to the news room and on her Facebook page, where O'Kelley said her last day at CBS11 will be May 23rd.
"I write this with a heavy heart and a huge sense of gratitude for my experience with CBS DFW," O'Kelley wrote. "Turning down an amazing opportunity to continue on as main anchor in a city we love is no easy choice."
O'Kelley, who
joined CBS11
from Phoenix's KTVK-TV, stressed that she is "definitely NOT leaving my career forever. Instead I'm giving myself some time to focus on my family and other interests . . . I look forward to other opportunities later, but for now I will focus on slowing life down."
She elaborated in later comments to unclebarky.com.
"My decision isn't only about 'going home to spend time with my kids,' " O'Kelley said. "I enjoy working. But being away from my family at night doesn't allow me to be the kind of mom I want to be. I am grateful to CBS11 for the opportunity to anchor their prime-time newscasts and their generous offer to stay on the nightside shift. Being a weekend mom, though, isn't enough for me and I'm positive there IS an opportunity that offers a better-fitting schedule for my family."
In January of this year, O'Kelley t
ook an extended leave of absence
to undergo a hysterectomy. Late last year, she was hit with "excruciating pain just before the holidays," O'Kelley said in a Facebook chat with co-anchor Doug Dunbar. The Scottsdale, Arizona-based doctor who delivered both of her children recommended the surgery after expressing "some serious concerns about what is happening," O'Kelley said. She returned to the air in March after missing the annual four-week February "sweeps" ratings period.
CBS11's Gilma Avalos filled in for O'Kelley during that period. The station's director of communications, Lori Conrad, told unclebarky.com Thursday that CBS11 has "nothing to announce on that at this point" regarding an interim or permanent successor to O'Kelley.
The ongoing May sweeps ratings period ends on May 23rd, which not coincidentally is the day that O'Kelley also is scheduled to say her goodbyes.
Email comments or questions to:
unclebarky@verizon.net