Last picture show: Local TV stations gang-tackle the crumbling of Texas Stadium
04/12/10 10:51 AM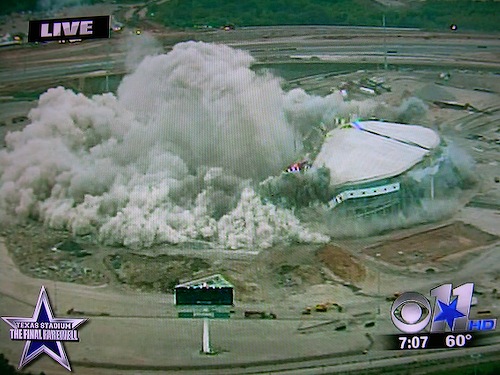 Dust to dust: Texas Stadium breathes its last. Photos: Ed Bark
By ED BARK
The money shots came at 7:07 a.m. Sunday, after a series of staccato bursts from within triggered the picturesque but poignant farewell of the house the Cowboys built.
D-FW's four major television news providers all gave viewers a live, you-are-there-look at the carnage while thousands more whooped or sobbed in person.
The TV presentations were recorded in full and then watched individually in their entirety by your faithful chronicler of big doings in local TV.
"I'm uploading some great pictures to Facebook," said Fox4's Heather Hays, who co-anchored from the scene with Steve Eagar. That's the way it works these days. At Texas Stadium's 1971 birth, the closest thing to Facebook would have been a mug shot at an area jail.
Here's our rundown of who did what -- and how well they did it.
FOX 4Title:
Bringin' Down the House
Showtime:
-- 6 to 8 a.m.
Personnel
-- Tim Ryan at the station's downtown studios with weatherman Evan Andrews. Heather Hays and Steve Eagar anchoring outdoors at the scene. Sports anchor Mike Doocy in the VIP tent. Reporter Brandon Todd in the field.
Eagar and Hays had two rounds of interviews with 11-year-old Casey Rogers, the kid who won the contest to push the implosion button. Whoops, Casey said he'd only been to the stadium once, "with Gloria Campos." Eagar noted she was from another local TV station (namely WFAA8) before quickly moving on.
Hays and Eagar for the most part were chatty and fun, with the rascally Ryan chipping in quips from his usual safe perch out of the elements. Ryan flubbed things at one point, though, telling viewers after the implosion: "Famed director Irwin Winkler could not have done better. The guy who created so many disaster and explosion scenes in his career. It looked like something right out of his Hollywood playbook."
Ryan meant to say
Irwin Allen
, the late "Master of Disaster" whose efforts included
The Poseidon Adventure, Towering Inferno
and
Swarm
. Producer-director
Winkler
was not at all known for disaster flicks, unless you count 1967's
Double Trouble
, starring Elvis Presley.
Meanwhile out in the field, Todd probably wishes he had a do-over. In preparation for a dust cloud that never really materialized at ground level, the intrepid reporter showily encased himself in a head-to-toe, baby blue body suit and goggles that made him look like an extra from
Outbreak
, which was not directed by either Allen or Winkler.
"I didn't really need this suit, I can tell you that," Todd later told Ryan, who riposted, "Yeah, you look kind of silly, to tell you the truth."
Todd, briefly joined live by a seemingly inebriated young man who said he loved the Smurfs, later recovered to log the morning's most interesting live witness interview -- with two teary-eyed women who had been Dallas Cowboys Cheerleaders in 1989. The team went 1-15 that year and failed to win a single home game.
(Brief Uncle Barky aside: My son, Sam and I, went to the season-ending Christmas Eve game that year against the Green Bay Packers, which my home state Pack won 20-10. Sam was nearly 6 years old at the time, and we got free candy and stuff from the cheerleaders. But it was freezing cold and most of the restrooms were frozen into submission. A sign of things to come.)
Back to our live coverage, in which Doocy did a nice job interviewing Cowboys owner Jerry Jones and former Cowboy John Fitzgerald (one of the very few to show up) in the VIP tent before joining Hays and Eagar outside.
While they were gathered, Ryan noted that Texas Stadium "went from the crown jewel of the NFL to arguably one of the worst stadiums" in its shabby declining years.
Doocy also added a refreshingly candid insight, noting that Jones envisioned a new stadium almost from the day he bought the Cowboys. "It worked to his benefit to not let Texas Stadium look that great," he said.
The Fox4 show ran twice as long as those on WFAA8 and CBS11. It got decidedly redundant down the stretch, with repeated replays of the demolition. But in reality, lots of potential viewers were still waking up, and probably appreciated the extra chances to take a look. It all ended with easily the best Texas Stadium sendoff on any station, a terrific compilation of archival footage of past glories -- and that dismal last game -- accompanied by lump-in-the-throat-inducing bagpipe music.
Grade:
B+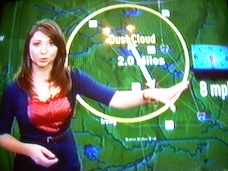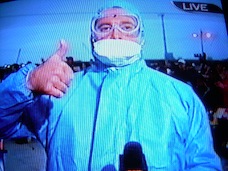 Going to excess: NBC5's Samantha Davies and Fox4's Brandon Todd
NBC5Title:
None
Showtime:
6 to 7:30 a.m.
Personnel:
Scott Friedman and Lindsay Wilcox co-anchoring from the station's Fort Worth studios with weathercaster Samantha Davies. Reporters Grant Stinchfield and Kim Fischer in the field.
NBC5 was the only station without an anchor team on site, and also had no sportscaster in the mix. Maybe it was too early in the morning for Newy Scruggs, but bouncy Matt Barrie might have been up all night anyway. And his energy would have been a nice plus, as long as he didn't say, "Kaboom, that was awesome!!!" or anything.
Stinchfield worked hard, landing on site interviews -- some of them on tape -- with Jones, Rogers, former Cowboy Randy White and fast-talking Irving mayor Herb Gears, who touted the plusses of his city with the zeal of a used car salesman at Leaky Lemon's Tow 'n' Go Auto Emporium.
Fischer likewise was in the field, emanating from the Stadium's Red Lot.
"We're going to get nice and dirty in a little bit," she said hopefully, referring to the giant, choking dust cloud that supposedly would be let loose by the implosion.
Fischer took her cues from weathercaster Davies, who spent a ridiculous amount of time prepping area residents for a dust cloud driven by winds that actually might get up to -- gasp -- 12 mph.
"The direction of the wind is going to be important, because where the wind is coming from it's going to blow that wind away from it," she misspoke at one point.
But those ground-level dust fears never materialized, leaving Fischer to lament, "I have my mask on, but the dust seems to be blowing a little bit away from us."
Other than that, Fischer contributed nothing, noting that her watch post was too far away from anyone to interview. Her fellow reporters didn't have that problem because they were in the midst of onlookers. But NBC5 did strategically place an "Implosion Countdown" clock in the upper right hand corner of home screens.
Near the end, Stinchfield said that security people will guard against "any looky loos" pawing through the remains of Texas Stadiums. Looky Loos? Tarnation, that must be straight from the
Gabby Hayes
playbook.
GRADE:
C-minus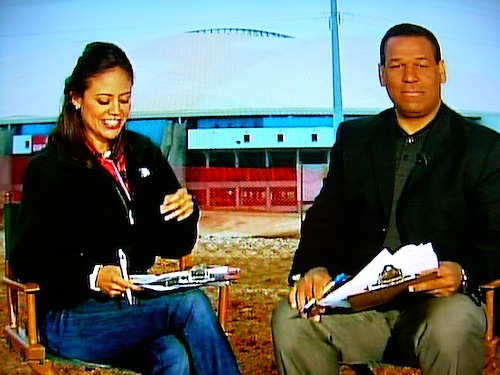 Now you see it . . . WFAA8 anchors Cynthia Izaguirre and Joe Trahan
WFAA8Title:
End of an Era: The Implosion of Texas Stadium
Showtime:
6:30 to 7:30 a.m.
Personnel:
Cynthia Izaguirre anchoring outdoors from the scene, with sports anchor/reporter Joe Trahan joining her and also periodically migrating to the VIP tent. Reporter Casey Norton in the field, with Troy Bush contributing observations from HD Chopper 8. Taped reports from Shelly Slater, George Riba, John McCaa and Gloria Campos. Taped commentary from sports anchor Dale Hansen
WFAA8 got off to a rough start when Norton got his mike in range of an elementary school age boy preparing to watch the implosion. He was there to see the action in live "3D," the kid said, adding, "See the helicopter get hit by a (unintelligible)."
Newcomer Norton quickly jerked his mike away before telling viewers, "No, no, no, we're not going to worry about all that."
He fared better after the implosion with a middle-aged woman who said, "I love the Cowboys. They weren't in there. So it was great."
The station thankfully had no ominous dust cloud coverage. In fact, a surprising amount of WFAA8's one-hour special was on tape. Canned reports ranged from a hard-hatted Slater's look at the intricacies of blowing up the stadium to Riba's history lesson (Crosby, Stills and Nash was the first concert performance) to Campos' rather gooey piece on young buck Rogers, whom she escorted into the Cowboys' former home for a last look at the pre-implosion mess.
Oddly, the entire live portion of the coverage had no WFAA8 logo on screen, nor the time of day. For historical purposes, it's better to illustrate the implosion the way CBS11 did in the photo at the top of this piece.
Hansen, who used to be the radio voice of the Cowboys with Brad Sham, said on tape that he'd be in New York City Sunday and "I'm not much of a stadium guy." Instead he'd visit Ground Zero in Manhattan, Hansen said after relaying an anecdote on how he'd seen Roger Staubach's last game as a Cowboy almost by happenstance.
Frankly, Hansen should have found a way to be on site Sunday. He was a key part of the team's broadcast history for many years. And his sportscasts still find a way to lead with Cowboys news whenever possible.
WFAA8's five greatest moments in Texas Stadium history, as recited by McCaa after a viewer survey, were topped by its spectacular demolition. It was ranked No. 1 ahead of Emmitt Smith's setting of the NFL's all-time rushing yardage record in 2002. So Hansen might someday regret not being there. Or maybe not.
GRADE:
B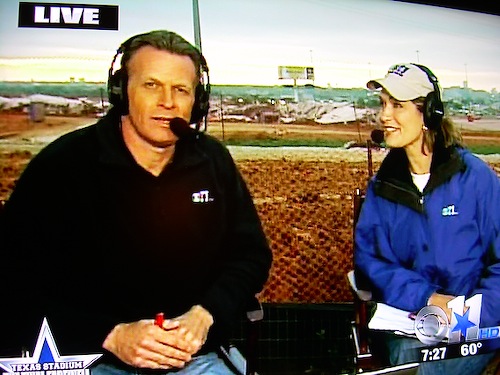 Now you don't . . . CBS11 anchors Doug Dunbar and Karen Borta
CBS11Title:
Texas Stadium: The Final Farewell
Showtime:
6:30 to 7:30 a.m.
Personnel:
Doug Dunbar and Karen Borta anchoring outdoors from the scene. Weathercaster Larry Mowry also on the scene, with reporters Jay Gormley and Stephanie Lucero in the field. Sports anchor Babe Laufenberg in the VIP tent. Traffic reporter Teresa Frosini in the station's Fort Worth studios. Reporter Steve Dennis on tape
The coverage had a nicely evocative beginning. Pat Summerall, who did numerous games at Texas Stadium, narrated a taped history with reminiscences from the likes of Troy Aikman, Emmitt Smith, Deion Sanders and Randy White. The latter also joined Laufenberg for a live chat.
Lucero, in the Red Lot, observed that "some of the fans here have been drinking all night."
Dunbar seemed sober when he asked, "Is there going to be a nuclear winter when this thing goes down?" But he laughed before throwing it to Mowry, who didn't make any undue big deal about the dust cloud implications.
CBS11 also had a Top 5 moments in Texas Stadium history, topped by Smith's rushing record, not the implosion. Dennis's companion taped piece on Cowboys lore touched a number of bases, including former linebacker Lee Roy Jordan's vow not to look in the direction of Texas Stadium again during his frequent drives past it. "I do not want to see it imploded," he said emphatically.
Dunbar and Borta spent a little too much time holding up a package of the implosion's macaroni and cheese sponsor. Over in the VIP tent, Laufenberg was the only Big Four station rep
not
to interview Jones. That's kind of puzzling, considering that he works for the Cowboys as their radio analyst in the same way that Hansen once did. But at least he was there.
Borta veered in the vicinity of weepy -- but appealingly so -- in the minutes after the implosion. Dunbar first observed, "Oh. My. Gosh." Then she added, "I'm shakin' a little bit. Just watching that building come down, it's a lot more emotional than I thought it would be."
Elsewhere, Lucero seemed a bit discombobulated, saying she had rushed her sons to "safety" in the family car and was "wearing a dust mask because the dust is coming our way."
But it wasn't. And she later recovered to talk to a pair of eyewitnesses after Dunbar chipped in with, "This thing looks like a nuclear nightmare behind us." Easy, boy.
Reporter Gormley had the early morning's only genuine scoop. Anchors and reporters at all three rival stations had wondered whether the implosion had come up a bit short by failing to knock down three of the 12 "trusses" used to hold up the roof.
Shortly before CBS11 signed off its live coverage, Gormley said he had learned that the trusses were intentionally left standing as souvenirs. The city might get one and the state might, too, he said. They may be left intact or cut into pieces, he reported. It hasn't been decided yet.
Hmm, I'd expect at least one of them to be carved up and sold for profit to collectors. That's business. And that, at last, is a wrap.
GRADE:
B