This just in: A night in the lives of D-FW's late night newscasts (Thurs., May 8)
05/09/08 01:20 PM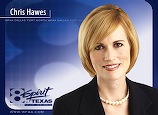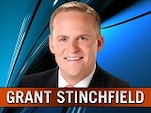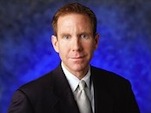 WFAA8's Chris Hawes, NBC5's Grant Stinchfield, CBS11's Jay Gormley
By ED BARK
A supposedly irate Dallas pizzeria owner has been griping lately about the local media's drum-beating of bad economic news.
NBC5 took her bait Thursday night, resulting in an oddly edible semi-apologia by reporter
Grant Stinchfield
.
"All the negativity has the owner of Sali's pizzeria outraged," he said, referring to a counter-offensive launched by plucky Sarah Saxon. "She's going on the record telling NBC5 and every other media outlet to quit it with all the economic doom and glom."
Stinchfield put her on-camera and then buttressed her bitching with supportive words from Southern Methodist University professor Michael Davis.
"Sadly for us, even one of SMU's top economists is backing Sarah Saxon up," Stinchfield said. Sadly for us?
Cameras then panned over a largely empty Sali's, giving the strong impression that business isn't so hot. But at the same time Stinchfield told viewers, "Sarah wanted us to know her restaurant's doing great. But she'd appreciate it if we'd stop scaring customers from spending money."
He again had it both ways with his live closer.
"Look," Stinchfield said plaintively, "the reality is we really do try to report the news you're interested in. And no matter what you may think, we're not talking about making up these numbers relating to the economy or anything else. With that said, Sarah's point is well-taken."
NBC5 seemed to scrimp a bit on lousy economic news Thursday, although anchor
Jane McGarry
did note that gas prices had jumped again.
Instead the station hit viewers with a rapid-fire burst of scary crime and tragedy news about a man who'd been beaten and carjacked, a ring of purse snatchers, a child hit by an SUV and two big drug busts. Pick your poison.
Meanwhile, CBS11 tore a page from deposed former news director
Regent Ducas
' run 'n' gun playbook, opening its 10 p.m. newscast with what anchor
Karen Borta
pitched as "a fiery rescue you will only see tonight on CBS11 news."
Reporter
Jay Gormley
again served as dutiful point man, priming viewers for a police video shot last month in Sansom Park. Cops were chasing four teenagers when the car they were in crashed into a building and began burning under the hood.
After first drawing their guns, police could be seen smashing side windows with batons and ordering the boys to get out of the car and get on the ground.
"The boy in the red shirt has a broken leg," Gormley narrated. "Minutes later, when the teens are a safe distance from the burning car, you can hear the boy with the broken leg screaming in pain."
Ooh boy. Can't wait for that. For the record, it was plain to see that the boy with the broken leg in fact wore red
pants
and a black shirt. But you could in fact see and hear him scream in pain.
Some marijuana and "several stolen purses" were found in the car, Gormley noted before thoughtfully informing viewers, "To watch the entire chase, fire and rescue, go to our Web site."
It's a shame to see a reporter with a decent reputation squander it so wantonly in recent weeks. At least that's the view from here.
In stark contrast, WFAA8 began with "The Suspect Within," an intriguing, behind-the-scenes tale of a rural fireman who's long been suspected of starting a series of fires.
Chris Hawes
reported in-depth on the fireman's continued career path, lately as a member of College Mound's volunteer fire department. Seven fires have broke out since he arrived. And the fireman, Eric Campbell, finally has been indicted by a grand jury on charges of arson. He's set to enter a plea next month, Hawes said, emphasizing that "he has not yet had his day in court. And until that happens, he is, like all defendants, presumed innocent."
Reporting stories like these isn't nearly as simple as popping in a police video. But they're worth a viewer's time and a station's investment.
AND IN OTHER NEWS . . .MORE GOOD WORK
-- CBS11's
Stephanie Lucero
had an interesting story on how homeowner insurance rates often can be tied to their nearest fire department's response time ratings and overall excellence, as judged by ISO (Insurance Service Organization) exams. The better the rating, the lower insurance premiums are likely to be.
WFAA8's
Brett Shipp
offered another installment in his periodic investigation of the Texas Railroad Commission's diligence in ordering repairs of faulty gas pipe connections that can and have led to home explosions and deaths. Especially telling: the high percentage of campaign contributions that each of the three commission members have received from the oil and gas industry. All of them said it has absolutely no bearing on their decision-making, but you be the judge.
SOMETIMES THEY JUST PUNT
-- Fox4 has had both standout and non-descript 9 p.m. newscasts during the May sweeps ratings period. Thursday brought one of the latter. I watched, listened and really didn't find anything that jumped out for better or worse. Except maybe for a sighting of veteran medical reporter
John Hammarley
who made his first sweeps appearance and seems to be rarely included on the 9 p.m. editions anymore.
Hammarley had an involving report on a young woman, now 20, who's been suffering much of her life from a rare, usually fatal genetic disorder called Batten disease. No one doubts Hammarley's compassion on stories such as these. But he probably shouldn't have closed his story by hugging its subject on-camera. That should have been a private moment between the two of them.
BLOOPER REEL
-- Seasoned WFAA8 sports reporter
George Riba
, reporting live from Detroit on the Dallas Stars' loss to the Red Wings, committed an uncharacteristic, unforced error.
"Well, we heard things in the (Stars') locker room like Detroit is a very good football team," he said. "Well, we already knew that. But we also heard that this team is a little fatigued from that four-overtime win on Sunday night."
Extensive coverage of the Stars, so uncommon on D-FW newscasts until recently, is probably enough to leave football on the brain of any sports anchor or reporter. But no, George, the Detroit Lions long have been one of the NFL's biggest stinkers. The Red Wings, though, indeed are very good with the puck.
PETE 'N' DALE'S PLAYHOUSE: EXTENDED EDITION
-- Boy there was no stoppin' 'em Thursday night, beginning with weatherman
Pete Delkus
' segue out of a brief story on that ever-expanding sinkhole in Daisetta, TX.
Anchor
John McCaa
noted that it's now gotten deep enough to accommodate "five Big Tex statues stacked on top of each other."
"Five big Tex statues. Two
Dale Hansens
," big Pete riposted.
After his weathercast, Delkus went deep into the email bag to read an elongated one from a viewer who's concerned about "the constant banter between Mr. Hansen and Mr. Delkus. It's borderline juvenile and I must say it continues to paint Mr. Hansen in a jealous, envious, petty demeanor toward Mr. Delkus."
Furthermore, "Mr. Hansen seems not to be able to stop his childish and boorish behavior until he has had the last slam. One example: Mr. Hansen makes fun of Mr. Delkus's hair. It's clear that Mr. Delkus has great hair. It's obvious to everyone that Mr. Hansen's jealous of his hair, his good looks and overall charm."
One out of three," Hansen rejoined. "You
do
have great hair."
It looks like these guys are intent on exhausting their repertoires before their big joint appearance on May 17th at the fifth in a series of Uncle Barky Shows (see banner ad above). It's free, it's for charity -- Stratos restaurant again will make a very generous donation -- and it looks like your congenial host can simply act like Marcel Marceau after perhaps getting a single question in.
Nine nights to go.