Local Nielsen ratings snapshot (Fri.-Sun., Feb. 25-27) -- down arrows for Oscars
02/28/11 01:26 PM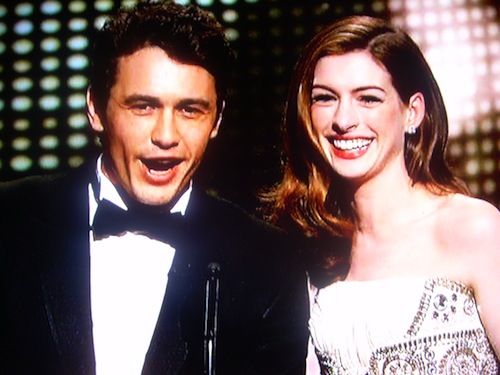 Junior Oscar hosts James Franco and Anne Hathaway. Photo: Ed Bark
Thoroughly predictable results in the major categories and two "young Hollywood" hosts with low name recognition among many oldsters may have combined to knock the Oscars for something of a ratings loop Sunday night.
Or maybe the ceremony itself is just getting old.
The 83rd Academy Awards on ABC averaged 907,267 D-FW viewers, down significantly from last year's total of 1,024,731. And that's despite annual ratings inflation that lifted the value of a single point from 67,863 North Texas viewers to the current 69,257.
Hosted by James Franco and Anne Hathaway, who replaced last year's comparatively ancient duo of Steve Martin and Alec Baldwin, the three hour, 15 minute presentation (7:30 to 10:45 p.m.) also took a dip among advertiser-coveted 18-to-49-year-olds. That number fell from 443,578 last year to 417,906 Sunday night.
Still, the ratings were nowhere near as bad as in 2009, when just 677,586 viewers watched, with only 291,176 of them in the 18-to-49 demographic. That show was hosted by Hugh Jackman.
(Final national Nielsen ratings also showed the Oscars taking a year-to-year drop in both measurements, with a 12 percent decrease in 18-to-49-year-olds and a nine percent slip in total viewers (from 41.3 million to 37.6 million. ABC, in its publicity release, but a smiley face on the results by noting that Sunday's Oscars were the 2nd most-watched since 2007. The least-watched ceremony ever, with host Jon Stewart and No Country For Old Men the Best Picture winner, drew 32 million viewers in 2008.)
In D-FW Sunday night, CBS'
CSI: Miami
was the biggest draw opposite the Oscars, with 242,400 total viewers in the 9 p.m. hour.
The still red-hot Dallas Mavericks also played on Sunday, with a 5 p.m. early start time in Toronto. The Mavs blew past the Raptors after a grindingly slow start, but just 83,108 viewers tuned into the Fox Sports Southwest telecast. A Saturday night road win at Washington did a bit better, with 110,811 viewers on FSS.
In Friday's local news derby results, CBS11 swept the 10 p.m. ratings with comfortable wins in total viewers and 25-to-54-year-olds, the main advertiser target audience for news programming on most stations.
Fox4 and NBC5 tied for the total viewers gold at 6 a.m., with Fox4 again having first place to itself among 25-to-54-year-olds.
CBS11 won at 6 p.m. in total viewers, but Fox4 otherwise was tops in the early evening news competitions. It ran the table at 5 p.m. and added a 6 p.m. victory with 25-to-54-year-olds.