Harry Shearer is the latest fitting choice for Dallas VideoFest's Kovacs Award
10/16/14 10:10 AM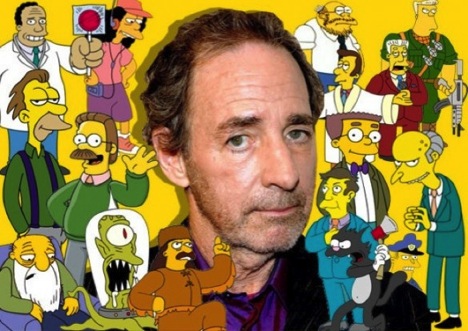 By ED BARK
@unclebarkycom on Twitter
Harry Shearer, recipient of the
Dallas VideoFest's 2014 Kovacs Award
, hasn't quite been around forever. You could make a case, though.
The comedian/impressionist/writer/actor is best known for voicing a multitude of characters on
The Simpsons
(including Mr. Burns and Ned Flanders) and as Spinal Tap bassist Derek Smalls. These alone are more than enough for pop culture enshrinement. But Shearer's back story as a child actor is way cool, too, in a sunken treasure "Who knew?" kind of way.
Born on Dec. 23, 1943, Shearer's first credit dates to the 1953 film
Abbott and Costello Go to Mars
, in which he's uncredited as "Boy." In that same year he briefly appeared in the big Biblical bash
The Robe
.
Shearer also played Jack Benny as a boy in two episodes of the late great comedian's television program. And in 1957 he was the prototype for Eddie Haskell as mischievous Frankie Bennett in the pilot episode of
Leave it to Beaver
. Shearer's parents, as the story goes, didn't want him to compromise his "normal childhood" by taking a weekly role on a TV series. That opened the door for Ken Osmond as Haskell. Those are the breaks.
Through the many years since, Shearer has been an outspoken iconoclast who plays well with others as long as the others stimulate him creatively.
He first became best known a member of The Credibility Gap, a 1970s radio comedy troupe that took their act on the road when the show was canceled. This eventually led to a writer/performer slot on
Saturday Night Live
. But Shearer felt both under-used and ill-used, never really clicking with executive producer Lorne Michaels or his successor at the time, Dick Ebersol. So he asked to leave.
"I'm not the tantrum type, although I think I'm better at hiding my feelings than I am," Shearer says in the superb 2002 book
Live From New York: An Uncensored History of Saturday Night Live
. "I'm told that when I'm unhappy in a situation, people know it just by the cloud that gathers over me."
Ebersol saw it a bit differently, saying in the same book of Shearer: "He's a gifted performer but a pain in the butt, unfortunately. He's just so demanding on the preciseness of things . . . He's intolerant of other people's issues. He's just a nightmare-to-deal-with person."
In other words, Shearer can be a lot like the
mercurial, ultra-creative Kovacs
, who fought the "suits" throughout his up-and-down career during the dawn of network television. He died at the age of 42 in a single-car crash.
Shearer, at age 70, is still in there punching, both as a charter voice-actor on
The Simpsons
and as host of public radio's comedy/music program
Le Show
since 1983. He also directed the 2010 documentary
The Big Uneasy
, an up-close look at a post Hurricane Katrina New Orleans, where Shearer now teaches at Loyola University.
His latest venture,
Nixon's the One
, is a youtube series in which Shearer plays the title role while re-enacting various real-life speeches and excerpts from the Watergate tapes. No further embellishments are needed.
The Kovacs Award presentation, including an interview with Shearer, will be at 7 p.m. on Friday, Oct. 17th at Dallas' Angelika Film Center, 5321 E. Mockingbird Lane. Previous recipients include Paul Reubens, Martin Mull, Mike Judge, Joel Hodgson, Terry Gilliam, Robert Smigel and, last year, George Schlatter.
Harry Shearer fits very well within this group during a big year in which he also won his first Emmy Award for his voiceovers in the "Four Regrettings and a Funeral" episode of
The Simpsons
.
Check out
his website
for more, more, more.
Email comments or questions to:
unclebarky@verizon.net