Heather Hays and motherhood -- the sequel
12/17/07 03:15 PM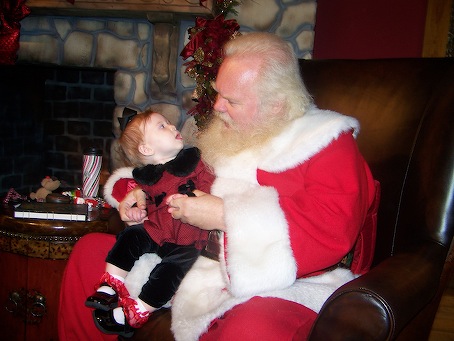 Santa Claus and Fox4 anchor Heather Hays' first child, Emmy, appear to be getting along well. By next Christmas, she'll have a sibling.
By ED BARK
Fox4 anchor Heather Hays, who became a mother for the first time on April 10, is preparing for an encore.
Hays confirmed Monday that she's expecting a second child. She also sent the above picture of daughter Emmy's first close encounter with Santa Claus.
"Yes, she is going to be a big sister this summer," Hays said in an email. The new baby (who I saw today!!) is due around June 26th. So at least this year I will get through May sweeps."
Hays co-anchors Fox4's 9 p.m. newscasts with Steve Eagar.
"We are treasuring every moment with Emmy," Hays said. "She is such a doll. I can't believe she is eight months old already. Whew!"